Harry and Judy's RV Trip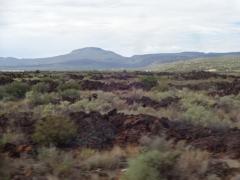 10th Aug 2017 - Summer 2017 Part II
Day 36-August 10, 2017-To Bernardo, NM
Day 36-August 10, 2017-To Bernardo, NM
Drove 171 miles in 5 hours.
Hot again today, 98 about 3PM
Opted for the Interstates today. Started out on I-40E. Passed the beautiful El Malpais (Badlands) Lava Beds in Grants, NM, 376,000 acres of black lava. This is the Zuni Tribal Reservation with lots of casinos that we just whizzed on by. Took a shortcut around Albuquerque, Route 6, Los Lunas. It took off about 40 miles (and ABQ traffic), but there was a lot of construction and stop and go for the first 15 miles of the 33 mile road. But the road after that was beautiful, newly paved and smooth. We passed through different tribal reservations today, the Acoma, Laguna and Isleta. At Los Lunas, quite a large community that looks like it has a lot of retirees, we picked up I-25 for the last 30 miles into Bernardo, NM. Our campground is Kiva RV Park and Horse Motel and is just what it sounds like. There's horse stables right next to the campsites. Campsites are big gravel pull-throughs so we don't have to unhook seeing that we're leaving tomorrow. Sat outside and enjoyed the nice weather. Wind picked up right before sunset and it got a bit cooler. We walked over to the stables to see the sunset better and two of the equine "guests" at the horse motel came over to see what was going on. Pretty sunset, then the rains came and it rained almost all night.
Diary Photos
Diary Movies
---