Harry and Judy's RV Trip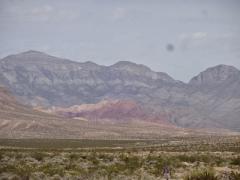 10th Apr 2018 - Summer 2018 RV trip
Day 21-April 10, 2018-To Death Valley, CA
21-April 10, 2018-To Death Valley, CA
Drove 121 miles in 3-1/4 hours.
Temp went from 70 at 5495' to 93 at -192'
At breakfast we heard really loud rumbling. Took us a while to remember we're near Nellis Air Force Base and they must be doing some practicing. Didn't take long before we were out of the crazy traffic and city life of Las Vegas and onto Route 160 West through the beautiful Spring Mountains. We drove over the summit of Mountain Spring at 5495' and then down into Pahrump Valley, flat prairie with yucca, sagebrush and some Joshua trees. One Joshua tree in the middle of nowhere was decorated with Christmas ornaments. Somebody has a sense of humor out here. Got into Pahrump and topped off the gas tank at $2.79 a gallon, which is the cheapest around. Good thing, diesel is $5.37 a gallon in Death Valley. Pahrump is quite a large city, with casinos and casinos and casinos, just in case you have any money left and want to spend it before getting into California. Or, coming the other way, if you want to spend it before you get to Vegas. Took a left out of Pahrump onto a one-lane road I can't remember the name of and drove for thirty miles on a road that was so flat you can practically see forever with beautiful mountains all around in the far distance. We saw a herd of wild horses coming down off the mountains. There's no mistaking wild horses, they always look so proud. After 30 miles we turned on route 127, where we entered California. There's usually a check point as you enter California to make sure you're not bringing in fruits or vegetables but there was no stop on this trip. Then 190 into Death Valley National Park. Oh, my, the scenery here is breathtaking. I'm not even sure what I'm looking at, salt flats? borax flats? We're here for a few days so I'll have time to find out. The campground is great with more shade that I expected. It's a Federal campground at Furnace Creek and is the only campground in the park with hook-ups. We were lucky to get the last site and that was in October. It's at -192' and hot. It was 93 when we got here at 1:30 and I'm sure it gets hotter as the day goes by. We set up, had lunch and spent the afternoon reading and relaxing. Had a knock on our door in the early evening, it was our neighbors, Wally & Laura from California, who have a Grand Design RV too. We talked with them for a while, then had dinner and looked at more maps and campbooks. Our route from here is still up in the air.
Diary Photos
---