Harry and Judy's RV Trip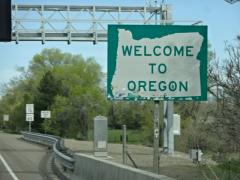 19th Apr 2018 - Summer 2018 RV trip
Day 30-April 19, 2018-To the Columbia River Valley, OR
Day 30-April 19, 2018-To The Oregon Columbia River
Drove 251 miles in 6-1/2 hours.
Temp started at 50 when we left, went down to 46 at the top of the Blue Mountains, then back up to 64 and warm sunshine in Boardman, OR.
Not many of the cows are standing this morning. I've always heard that cows lay down when it's going to rain and it is cloudy so maybe there's something to it. We passed a few fields of purple flowers but never found out what they were. I-84 northwest is mostly rolling hills over the Snake River and into Oregon and back to Pacific Time Zone so we gained an hour. Passed the Boardman Tree Farm, where they grow thousands and thousands of hybrid poplar trees. They are all very tall, thin yellow trees and grown in many groups of hundreds for miles and miles. A very weird site to see. We are on some of the Oregon Trail. Came across some snow covered mountains around Baker City, Drove over the 45th parallel, the half way point between the Equator and the North Pole. Stopped for lunch at a rest area with a beautiful view of huge pine trees on the mountains. Drove over the Blue Mountain Summit at 4193', temperature went down to 46 degrees and saw some patches of snow on the ground. The drive down that mountain is spectacular every time we see it, just breathtaking. At the bottom of the mountain is Pendleton, a nice historic western town with a great Indian casino. We have camped at their campground in the past but it's closed for renovations for about a month. We passed the Pendleton Round Up where they hold the rodeo in September. We might have to come back some day. We filled up on fuel, stocked the larder at the grocery store and continued 50 miles to Boardman, OR on the far east side of the Columbia River. Campground is a state park, also a marina, it's right on the river and the sites are big, grassy and the weather is wonderful And there are lilac bushes right at our sight that our in bloom. We have a long pull through and we're not unhooking because we're off again tomorrow, although if we'd have known how nice this campground was we probably would have stayed another day. It was about 4PM when we got all set up so we had plenty of time to sit outside (which we haven't done in a while because it's been so cold), enjoy the sun, and watched a tugboat, boats and some ducks on the river. Met our neighbors, Neil and Leah, who are headed home on the Olympic Peninsula, have been on the road 5 weeks and are really excited because it's the first time they were able to cook outside. They had cold and rainy weather on their trip, too. After dinner we watched the prettiest sunset we've seen this trip and met some more people, a couple from Portland who also said this was the best day weather wise they've had so far this year. It gets dark here early, about 8PM, we're now far east in the Pacific Time Zone.
Diary Photos
Diary Movies
---