Harry and Judy's RV Trip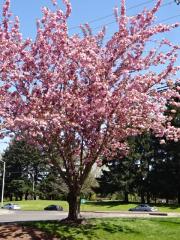 23rd Apr 2018 - Summer 2018 RV trip
Day 34-April 23, 2018-To Silverton, OR, Silver Falls State Park
Day 34-April 23, 2018-To Silverton, OR, Silver Falls State Park
Drove 105 miles in 2-1/2 hours.
Gorgeous day, 75 and sunny
Harry heard construction on I-84 last night but I didn't hear a thing. Seems they're paving the interstate right near the campground and the construction went on for miles. We stopped at a rest area and nearly got blown to bits, the wind on the river is fierce. Followed the Columbia River to Troutdale about 10 miles east of Portland then headed south for 30 miles to Silverton on route 213, a nice country back road with little towns and nice scenery. The wildflowers and cherry trees are beautiful and there are llama and alpaca farms, also cows, sheep and horses. We got to the campground early and set up. Owner said last week the campground was flooded and the winds were terrible, we came at the right time. We had lunch then drove 14 miles to Silver Falls State Park. At over 9000 acres this is the biggest state park in Oregon. The road into the park is a windy, narrow, no shoulder kind of road. The closer you get to the park the more it's like a rain forest, lots of moss on the pine trees. There are yellow bushes on the side of the road and you can smell them all the way in to the park. Lots of falls here but we only saw two, North Falls which we saw from a viewpoint on the other side of the forest and South Falls. We had to walk a ways to see South Falls and you could go down 19 flights and stand under the falls. We didn't. Lots of Christmas tree farms on the way up and also on the way down the mountains. Farms being plowed and newly planted and remnants of the flooding they just had in the gulleys.
Diary Photos
Diary Movies
---