Harry and Judy's RV Trip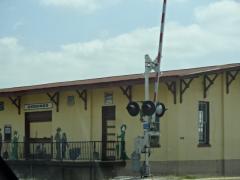 1st Jun 2018 - Summer 2018 RV trip
Day 73-June 1, 2018-The Long Road to Sugar Land, TX
Day 73-June 1, 2018-The long road to Sugar Land, TX, baseball
Up to 100 again today.
Drove 168 miles in 5 hours.
Everybody we talk to is complaining about the heat, guess it's unusual for this time of year. In our quest to avoid interstates and toll roads we drove 12 miles on a narrow farm road through corn and sorghum fields with low tree branches, had to watch that we didn't hit anything on the roof. Then route 95 to 290, the Texas Brazos Trail which turns into the Texas Independence Trail in Brenham in Washington County, "The Birthplace of Texas", where the Texas Declaration of Independence was signed in 1836. Through some smaller towns like Elgin, Giddings and Carmine where there was a fire on the side of the road. We've been seeing lots of signs to not drive or park on the dry grass because of sparks and also not to throw cigarettes out the window because this is how the fires start. This being Texas, in between the towns are big ranches, cows, horses and goats. Stopped for lunch on the side of the road when we were only 30 miles away from the campground. Good thing, those 30 miles were the worst of our trip so far. Sugar Land is southwest of Houston but to get to it you have to go around Houston. There are many toll roads and interstates that get you there and we probably should have taken them but we went south on route 6 instead. Stop and go traffic all the way, lights and traffic and the GPS didn't help one bit. Doesn't help that some roads have three different names, i.e., Grand Parkway, FM 2759 and TX 59 are all the same road and the GPS, Google Maps and the paper map each call it something different. We got lost and had to call the campground. Twice. Had to turn around a few times and when we finally got there the GPS was still saying we had 3 miles to go. At least the campground is shady and fewer than 15 minutes to the ballfield. Tonight it's the Sugar Land Skeeters vs. the York (PA) Revolution at Constellation Field in Sugar Land. They're both in the Freedom league and have no major league affiliations. Once again we got lost and had to turn around. The GPS and Google maps couldn't agree and we felt like we were listening to them argue most of the way. Traffic was horrible so we cut through a residential development and got there quicker. It was a bonanza for minor league baseball fans tonight, Super Hero Night, Boy Scout Sleepover, Comic Book giveaway and fireworks. The costumed super heroes figured into the games between innings and the players had their names morphed into super hero names and their pictures were in costume on the stat board. Even Swatson, the mascot mosquito was in costume. Lots of fans, fun night but the home team was robbed of a win. York ahead 3-2, Skeeters up bottom of the 9th, 2 balls, 2 strikes, 2 outs, bases loaded, ball hit hard-could be a grand slam. But, no a pop-up out! Fireworks were short but fierce. And loud!!!! On the way back to the campground the GPS put us on a road that said "Texas Tags Only". Guess if you live here you know what that means. We only knew it was the way back so we took it.
Diary Photos
Diary Movies
---