Heather & David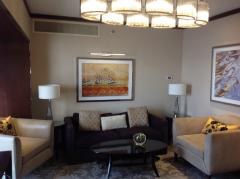 8th Nov 2017 - Southern Italy
Dubai
Flights from Launceston to Dubai via Melbourne worked well and we arrived on time in Dubai early this morning. In order to get into our room at the Sheraton Dubai Creek at 7.30 am we had to upgrade to a suite - it's a tough life 😊
After a welcome shower and some well needed sleep we headed off for a walk around our hotel. It was quite warm so we didn't venture far but enjoyed a lovely walk along the waterfront looking at all the boats.
One of the benefits of the hotel suite is that we can go into the club lounge so we took advantage of the High Tea on offer this afternoon as we were quite hungry. Our bodies are still on home time so we're eating at strange times, however, we are both feeling really well and I'm sure we will adjust soon enough.
Karina and Jack drove all the way to Dubai to have dinner with us tonight so that topped a wonderful day to perfection!
Diary Photos
---