Heather & David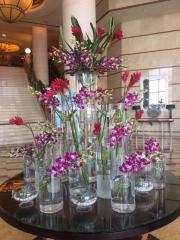 9th Nov 2017 - Southern Italy
Our Wedding Anniversary in Dubai
We have been married for 43 years today and we are so happy we wish we could have 43 more!
We started the day with a lovely breakfast in the hotel then shopped at Dubai Mall. We must have walked around that place 3 times looking for things so spent a quiet few hours with our feet up this afternoon.
Dinner was in Vivaldi restaurant which has food inspired by Alfredo Russo, a Michelin star chef. We had a delicious meal and a nice bottle of Italian Soave to go with it. The chef sent out tiramisu for dessert with a chocolate Happy Anniversary sign on it which was very cute. As you can see from the photos we haven't quite mastered selfies yet!
Diary Photos
---