Heather & David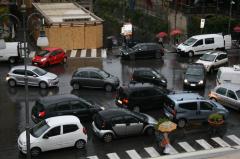 12th Nov 2017 - 13th Nov 2017 - Southern Italy
Sorrento
We arrived in Rome and picked up an Avis car then drove straight to Sorrento. It only took about 4 hours but would have been quicker if, firstly, the Tom Tom that we brought from home would actually let us turn it on, and secondly, if the quickest road to Sorrento from Naples wasn't closed.
We ended up having to drive around the waterfront for about 25 kms and the first 15 of them were bumper to bumper traffic in both directions. The Italian drivers just made extra lanes in the middle of the road, even though there wasn't room for 2 cars to pass, let alone 3. The amazing thing to me were the pedestrians. Even when there was a footpath they would walk along the road - with 3 cars across the track! I'm sure we missed most of them by a hair's width.
It was pretty scary and we were glad to get to our hotel. They rang the parking man and he came and picked the car up and we told him we don't want it back until we leave on Friday! We just had a quick dinner in one of the local eateries with a nice bottle of Italian red and we slept like babies.
It is raining this morning and quite heavily at times. We braved the weather and went out walking for a few hours, through the old town down to the harbour front. It still looked beautful even in the rain! We were hoping to go for a seafood dinner at one of the restaurants that sit out on the wharves but we might leave that until another fine day as I think it would be a lot more pleasant.
Diary Photos
---