Heather & David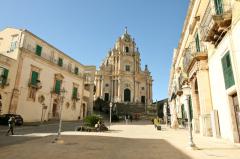 28th Nov 2017 - Southern Italy
Syracuse - Ragusa Ibla
We drove to Ragusa Ibla for a day trip today. It is another beautiful town with baroque style architectur and is in the mountains, about 90 minutes drive south-west of Syracuse. We went there for one reason alone - we had booked lunch at a 2 Michelin Star restaurant called Duomo.
Duomo's special fixed price lunch menu provides 3 courses, 3 glasses of wine, water and coffee for only 60 Euro each and the courses are all a surprise - whatever the chef wants to give you. In addition to the 3 courses, they brought another 6 small plates of food between those courses.
The service was impeccable - truly fine dining but with no stuffiness at all. Everyone spoke excellent English and everything was explained well. The food and wine was sensational and the value for money was unbelievable. We both thoroughly enjoyed this special day.
Diary Photos
---