Heather & David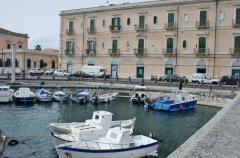 30th Nov 2017 - Southern Italy
Syracuse
We are having a rest from driving today so we spent it exploring more of Ortigia.
The food market was especially interesting with really fresh and good looking fruit, vegetables, spices and seafood. All at very reasonable prices, We also wandered through the Arab quarter, With it's narrow streets and baroque architecture it is such a lovely place to walk around.
We stopped for lunch at a cafe called Kantunera and ate black pork, onion and cheese hamburgers with an icy beer, sitting on the sidewalk. Our Vitamin C hit came from a freshly pressed orange juice squeezed by hand by a gorgeous old Italian Nonna ..... bellissimo!
It is 21 degrees here today and we have gone into 2 shops that advertise gelato and have been told that it is too cold to sell gelato! People are walking around in huge, thick coats and scarves! Not to be denied , we persevered and found a more realistic gelateria open for afternoon tea.
Diary Photos
---