Heather & David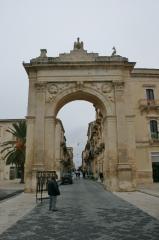 1st Dec 2017 - Southern Italy
Syracuse - Noto
It is an overcast and cooler day today for the first day of winter.
We went for a drive to Noto which is about 40 minutes south west of Syracuse and is a UNESCO World Heritage Site. It was flattened by an earthquake in 1693 and was rebuilt into what is considered to be the finest baroque style town in Sicily.
It is clearly the most beautiful town we have been to yet. As it was overcast there weren't too many people around so we thoroughly enjoyed wandering around.
Fortunately the rain held off until we got back in the car.
Diary Photos
---