Heather & David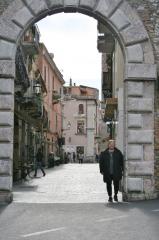 2nd Dec 2017 - Southern Italy
Syracuse - Taormina
Taormina is a hilltop town on the east cost of Sicily, about 90 minutes drive north of Syracuse, near Mt Etna. It is a beautiful town with cliffs that drop straight down into the Ionian Sea. There are lots of sandy beaches with some pretty good waves too.
Taormina is famous for its Grego-Roman Theatre and its spectacular Communal Gardens, both of which we thoroughly enjoyed exploring.
There were a few showers around, however most of the rain fell while we were nice and dry sitting in a pizza restaurant for lunch, so it didn't spoil our day at all. Mt Etna was covered with cloud so David sill hasn't got his photo of it - we might have to buy one!
We leave Sicily tomorrow for 3 days in the mountain area near Cosenza before we head back to Dubai and Abu Dhabi on Wednesday night. We can't believe the holiday is nearly over!!!
Diary Photos
---