Heather & David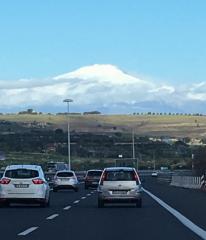 3rd Dec 2017 - 5th Dec 2017 - Southern Italy
Syracuse - Cosenza
We drove from Syracuse to Cosenza on Sunday and it was a beautiful day. The scenery was spectacular from the ferry crossing to the mainland, along the beautiful coastline for some way, before heading through the mountains with lots of gorgeous Autumn leaves on display.
The last couple of days have been really lovely and restful, with the first full day here in Cosenza raining most of the the day and today being a brillant sunny day, although a bit cold around 14 degrees.
We spent yesterday shopping in the city and today planned to do some walks through the Sila National Park. It was to take about an hour and a quarter to drive to the visitors centre so we headed off expecting a fairly long drive. We weren't quite expecting to go as high into the mountains as we did, and with the temperature dropping by the minute the snow started to appear.
It was very pretty and the trees looked a lot like natural Christmas trees so we enjoyed the drive, even though the roads were very narrow winding ones, with the drop from the road down into the valley (with no balustrading) scaring the living daylights out of us!.
Once we got to a main road there was a lot of snow on the ground but the main roadway had been cleared. The outside temperature dropped to zero and we were supposed to take a smaller road off the main road for the last 10kms. When we saw the condition of the side roads we decided there was no way we were going to drive on any road like that, nor were we going to go out walking in the snow, so we headed back into town.
We had a very civilised afternoon wandering around the city having lunch and gelato in the plaza. Our bushwalking days will have to wait until we get home to Tassie.
We only have one more night in Italy. We drive back to Rome tomorrow, then have a few days with Karina and Jack in Abu Dhabi, before arriving home on Monday, the 11th of December, just 2 weeks to Christmas.
Our trip to Southern Italy has been just wonderful - so many beautiful places to visit, so many cafes and restaurants to enjoy, so many stairs to climb and so, so much fun!
Diary Photos
---