Chris & Laurie - Moonraker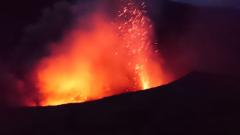 12th May 2017 - 17th May 2017




Great time in Vanuatu



We are now exploring the unspoilt islands of Vanuatu where the remote village tribes are really friendly. We intend to go and see the land diving on Pentecost Island and the Namber tribes on Malekula Island where the two villages are separated in to the big dick and little dick tribes. Should be interesting !!



Diary Photos
---