Chris & Laurie - Moonraker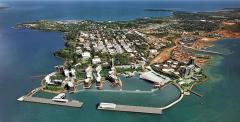 22nd Jun 2017 - 8th Jul 2017




Finally arrived in Darwin and city life



Have now reached Darwin after some great sailing and remote living in Melanesia. The winds have been very brisk and in the right direction allowing us to cover lots of sea miles each day. Charlie and Fraser are now firming up plans for their next adventure when they leave the boat next week. Arjan is due to arrive from Belgium as crew for the next leg to South Africa. Stuart has decided that he wants to come as crew as well. We plan to leave for Indonesia during the second week of July.



Diary Photos
---