Chris & Laurie - Moonraker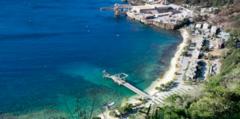 2nd Aug 2017 - 8th Aug 2017




Christmas Island



After a very fast and lively sail in to the Indian Ocean we have stopped off at Christmas Island for a few days. A bit early to see the red crab migration, we did however hire a car and get out to see all the huge variety of land crabs on the Island. We managed to see some Bobbies nesting sites with fluffy chicks in situ. A real wild island where you definitely need a 4x4 vehicle.



Diary Photos
---