Chris & Laurie - Moonraker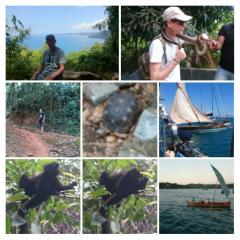 9th Oct 2017 - 19th Oct 2017




Around Nosey Be



We have had a very relaxing time around the island of Nosey Be NW Madagascar. It's now time to head down the Mozambique Channel to get to Richards Bay in SA. On the way, our next stop will be the French Island of Mayotte on the Comoros Islands. It will take a few weeks to get to Richards Bay, so we have stocked up with Gin (local version £2 a bottle) & the rest of the basics. We are hoping that our fishing improves in the Mozambique Channel.



Diary Photos
12th Oct 2017 Day out on Nosey Be
No Description
---