Jason and Fiona - Trenelly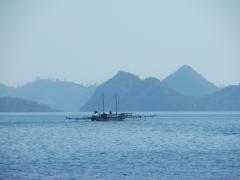 20th Aug 2011 - 30th Aug 2011
Incredible Komodo
We had been keen to get to the Komodo islands and they didn't disappoint. Beautiful islands, clear water, great snorkelling and dragons!! We even got the sails up quite a few times. The currents in the passes are crazy and, with a bit of help from a dive boat, we did our research and were generally getting a good lift from it, rather than going backwards!

We started at Labuan Bajo for to get our premits and stock up a bit with food and fuel. As always we had been doing a fair bit of motoring.

We then sailed to Rinca, where we anchored near the ranger station and arranged a guided tour. I let the kids run around outside while I did the paperwork, so was pretty surprised when we all stepped around the corner and there were a bunch of giant Komodo dragons lazing around the rangers base! They seemed fairly sleepy, but there was no way we were getting too close. The rangers carrying forked sticks, which looked like they may have been a bit lightweight for a full blown dragon charge, but I'm sure we were all perfectly safe!

We had a fantastic walk around the island the next day, and were lucky enough to spot water buffalo, a wild pig, a couple of large komodo and some baby ones.

We sailed round to the south side of the island with pretty strong 20 knot + winds, which was all very exciting. We also took a bit of a short cut through a narrow passage. Luckily, the current was going with us, although the wind wasn't, so it was a bit like being back on the high seas for a short while.

The southern anchorage, Uwada Dasami was well protected from the strong winds, but a bit choppy for snorkelling unfortunately. However, we saw wild komodo on the beach from our anchorage. The next day we saw wild deer and pigs as well. And a dive boat anchored nearby did an eagle feeding session. We had a bit of a stroll on a beach one day, and on our return to the dinghy came across a komodo headed straight for us!! He had his tongue flicking in and out, which is how they smell, and although he was taking his time, he looked pretty purposeful. Jason was carrrying a leaf full of hermit crabs which the kids had been collecting and they were the first things to go the komodo's way. Unsurprisingly, he didn't seem too deterred by some small sea creatures. We then threw a small rock to his side to scare him off. By then he was fairly close and I was a fair way into the sea with Dylan and Molly, but I think he realised there were quite a few of us, and we had nothing to eat (except for two juicy children), so headed away again. Very nerve wracking and much more scary then the Tongan goat Incident! When we got back to the dinghy, there were footprints and tail marks to the dinghy and footprints over the seat!!

We found beautiful anchorages at Pink Beach which offered lovely snorkelling and at the north end of Komodo Island at Gili Lawa, where we snorkelled, explored the beach and hills, and swam with a manta ray!
Diary Photos
25th Aug 2011 Indonesian Fishing UFO
Each region had their own distinct fishing vessel. From one man sailing canoe, to these elaborate affairs. Always pretty to watch by day, but totally unlit by night!
---
25th Aug 2011 Komodo Dragons
Our first unexpected look at the dragons was at the rangers station when we went to organise our guided tour. Wow!
---
26th Aug 2011 Up close to the dragons
---
27th Aug 2011 Komodo Pincer Movement
John from Invictas had gone ashore for a wander when we noticed 2 Komodo dragons checking out his dinghy. He was at the far end of the beach. Then, whilst dragon number one settled down to wait at the dinghy, dragon number 2 went off to get John! Jason and Dinghy Boy headed ashore to offer assitance!
---
29th Aug 2011 Snorkelling with Manta Rays
We were all togged up and primed for a swim when Dylan spotted a fin off the boat. We hopped straight in and went for a swim with him. I had Molly on my back and Dylan snorkelling next to me. I thought he might be scared as the ray was so enormous, but he was fascinated. There was a lot of plankton in the water so the ray swam round with mouth wide open. At one point he headed straight for us with mouth agape - awe inspiring!
---
29th Aug 2011 Barbeque on The Beach
We topped off our stay ay Gili Lawa Laut with a barbeque on the beach and cooked up the last of our fish. Note the dinghy stranded on the reef! Luckily the tide came in as we finished our fish and the dinghy floated in to take us home!!
---