Jason and Fiona - Trenelly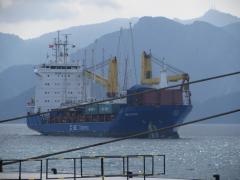 30th Mar 2012 - 31st Mar 2012
Marmaris, Turkey
Diary Photos
30th Mar 2012 Trenelly Arrives on BBC Polonia
The excitement was palpable as, with the other 14 yacht owners, I watched the arrival of my gorgeous Trenelly.
---
31st Mar 2012 Trenelly being unloaded from BBC Polonia in Marmaris, Turkey
It was so good to have her back again.
---
31st Mar 2012 View from Marmaris Castle
This was a great castle with wonderful views over sunny Bay of Mararis.
---