Jason and Fiona - Trenelly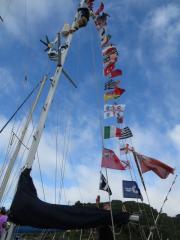 29th Jul 2013
Circumnavigation-tastic!
Well, we finally made it back to Plymouth. As my sister said 'It's not exactly round the world in 80 days'!

However, we managed to fit in a brain tumour, 2 Atlantic crossings, 2 Panama Canal transits, a baby en route to New Zealand and even, finally, got to the Scilly Isles!!

Our final passage we took on extra Granny and Grandma crew to help us around from the river Yealm and John gamely waved the Cornish flag off the Breakwater to mark our triumphant return.

BBC Spotlight did try to contact us, but Jason had lost his phone and didn't find it until a week later, by which time we were, quite literally, old news!!

How did we manage to get ourselves around without more mishaps!!?
Upon telling Dylan he had sailed around the world and that Molly had sailed half way round.
Molly ; "I want to go ALL the way around the world"
Dylan ; "I'm not going round the world AGAIN!"
Diary Photos
29th Jul 2013 52 Visited Nations Flags
...plus one Oyster 'O' for Trenelly
---
29th Jul 2013 Fun in the Sun
The sun even came out to welcome us in.
---
29th Jul 2013 Horay for Cornwall!
After all those plans for a big arrival party, John, our most loyal supporter, was there to wave us in.
---
29th Jul 2013 Trenelly as Never Before
Trenelly's return from her circumnavigation. John's great pic of our moment of glory.
---
29th Jul 2013 All Smiles
Not sure Dylan and Molly could really understand quite what they had achieved on this momentous day.
---
29th Jul 2013 Those Flags Again
They are arranged in the order that we visited them, starting with Guernsey and ending with Italy.
---
29th Jul 2013 Pop!
If ever there was a good excuse....
---
29th Jul 2013 My Other Girl
Trenelly will always be my first Love!!!
---
29th Jul 2013 Bless this Ship and All who sail in Her
It didn't seem right that the real star of the show should go without.
---
29th Jul 2013 Ahhh
You wouldn't think they just spent 12 years living together on a small boat.
---
29th Jul 2013 All of us did it!
Dylan and Molly still struggling with the enormity of their achievement.
---
29th Jul 2013 Who are they?
We sailed a small boat around the world. We will never forget the things we saw and did, and the people we met along the way.
---