Jo goes wandering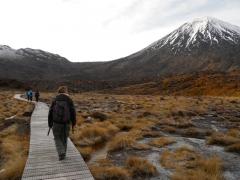 25th May 2012 - 1st Jun 2012
Volcanoes and Capitals
What ive been doing lately
Hiked across tongariro, about 8hrs of walking across an active volcano next to what you might know these days as mount doom. Emerald lakes, snow on the ground, old lava flow rocks, and hot earth in some places despite the freezing artic winds. Cool day.
Did not skydive due to rain and cloud, hazards of travelling in winter!
Wellington, the capitol, the windiest city in the southern hemisphere. I was not expecting much really, hadn't heard anything about it and not really into cities and wind is not my friend but its nice here. Lots of hills around it, shocking it sits on a fault line like everywhere in NZ! Apparently its moved alot over the years, nice to know! Nice harbour views with hills and a cool waters edge running track for me to jog along. Loads of cafes and random shops. Nice lookout to walk up and see the city and water views AND I randomly bumped into a girl I worked with about 15 months ago in Australia, it was amazingly random. So we had a big night out, good pubs, loads of live music. Went on a pub crawl to see the wellington scene, mY favourite bar of the night was one which had little fires in the middle of each table in the outside seating area, what a great idea! Big museum to go in for free, done some learning about volcanoes and earthquakes and English invaders. To top it off I had my own room last night in the hostel cos they had to reshuffle everyone. I am a Wellington convert!
Tomorrow Its south island time. It has alot to live up to over there, all I hear is good things so Im pretty keen. Ferry is bright and early so best get me to bed.
Diary Photos
---