I'm looking for a Jon!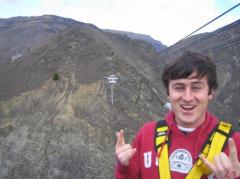 28th Aug 2007




The Nevis



We bought James a Nevis bungy jump for his birthday and i volunteered to go along and jump with him. It's something i really wanted to do before leaving town, but after how difficult i found the last bungy i did in March (so long ago?) i've been putting it off ever since. The Kawarau Bridge i did before was 43 metres high. The Nevis is a suspended cable car which looks a lot less stable than a bridge, and is 134 metres high, the 3rd highest bungy in the world!! If you've ever looked down a 100 metre track it's a long way, well add 34 metres and imagine it vertically. Once you're out there looking down at the river below it looks so far down.

The freefall is 8.5 seconds at 130km/hr (over 80 mph). Imagine falling vertically at 80mph, then count 8 seconds. 1 mississippi, 2 mississippi, 3 mississippi, 4 mississippi. You get the idea it's a long time. That's a good thing though, because there's time to get over the initial shock of jumping, and after a couple of seconds I actually enjoyed the falling, unlike the bridge in March which was over before i knew it. You then bounce up so high that you get a second freefall which is still higher than the bridge.

So many emotions and so much adrenaline were then running through my body and it was the most amazing feeling of satisfaction. I'm not saying I can now do a bungy easily, or that i'd do another in a hurry, but I did really enjoy the Nevis and i'm so glad i did it. Check out the video on the movies section, you get an idea how far down it is. You need to watch sideways unfortunately. James also did the jump without hesitating and enjoyed it. After both having a night of struggling to sleep within the last week it was over and we didn't know what we'd been worrying about.

We needed a few drinks after that and Chris (Emma's bloke) was leaving the next day so we went out for a few drinks that night. Charles and Camilla also left the next morning so we now have our house back. I've finished work and just been lazy the last week, before I get the bus to Christchurch friday, ready to fly to Sydney saturday. It's gonna be sad to leave Queenstown after so long but Im excited about checking out OZ. I haven't really got any plans for when i get there but im sure i'l manage to keep myself busy.



Diary Photos
Diary Movies
---