I'm looking for a Jon!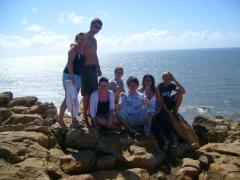 7th Sep 2007




Fraser Island



I had the best weekend I've had for years on Fraser Island! It's the biggest sand island in the world and is just off the east coast. There were 11 people in our group, 7 English, 2 Irish and 2 Germans, so as you can imagine we stocked up on beer before heading off. Everyone decided I look like Frodo Baggins so that was my name for the weekend. On the last day one of the Irish lads had to ask me my real name?

It was so cool. It's just a case of "here's your tents, here's the keys to the 4x4, see you in 3 days. We were given an itinery you were suggested to follow, but that was dismissed within minutes. I don't think the Germans liked this much, they prefer planning, order and routine, and it was funny watching the lads from Crewe telling them we'll just drive and see where we end up.

It was great having nothin at all to do for 3 days apart from walk on the beach, swim in freshwater lakes and drink Goon. Goon is boxes of wine that travellers buy in oz because you can get 5 litres for a couple of quid and that's your night sorted, perfect for a camping trip! Unfortunately there was no sterio in our 4x4 so we had to make our own music. One night after a few too many goons i stood on top of a food box and turned into a human karaoke machine, singing requests and getting everyone to join in.

We had a few run ins with Dingoes while we were there. These are wild dogs which live on the island, and you're not supposed to approach them because they can get aggresive. We didn't have much choice when they started circling our tent trying to get our food! We ended up throwing wood to scare them off and Rick ran around like a madman with a shovel, and ended up twisting his knee and struggling to walk the next day. Muppett!

The group had such a good time, I'm meeting a couple of them in Sydney this weekend and will be meeting up with the lads from Crewe back in the uk.



Diary Photos
7th Sep 2007 Indian Head, Fraser Island
---
7th Sep 2007 Fraser Islan Crew
---