Big Bird on a Bike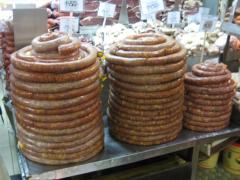 17th Apr 2015 - 30th Apr 2015 - Big Bird Rides Again
Beach Bums
Well Ladies......you´ll be pleased to know that, yes, Brazilian women have cellulite too, only they´re not afraid to show it!
I was beginning to wonder whether Brazil had beaches at all, as I´d been cycling for a full fortnight before I actually caught sight of the ocean. There were some very long, straight roads at first through dry rice fields and then later between pine trees. Sometimes the road had a hard shoulder, at other times it didn´t. Occasionally I caught a tantalising whiff of salt in the air, but apart from a couple of nights in Porto Alegre it was basically a succession of 120km days with hot, sticky nights in the tent cowering behind the mozzie net for fear of being eaten alive.
But...all is not lost! After doing battle with the chaotic city traffic I finally clattered my way into the wonderfully-named town of Florianopolis (it just rolls off the tongue!) and as the sun set over the marina I found myself installed in a vast room in a hotel stuck in the 70s with a cold beer in hand and the proprietor trying to persuade me to let him call the local TV station so that they could do an article on me (I managed to put him off).
The next day was a Sunday, so I thought it would be a good quiet day to cycle across the island to find a beach to chill out on for a few days. I hadn´t anticipated that half of Brazil does the same thing every weekend, but after yet more battling with the traffic I sweated into the gorgeous little town of Barra de Lagoa and have been here ever since.
I started this blog almost a week ago, but got interrupted and then the hostel was invaded by three teenaged Essex Girls and there went the computer access for the rest of my stay. What is it with Backpackers who spend all day just gazing at their Facebook pages? I must be getting old. For the first few days in the hostel I enjoyed the company of some great travellers, but then the place filled with annoying teenagers who go out every night getting drunk, spend the next day on the internet booking their next hostel and then move on (on a pre-booked bus with a taxi to get them to the bus station) to repeat the whole experience. And then they go home and tell people they´ve seen Brazil! I know I´ve moaned about this before and I promise not to do it again, but they just don´t make Backpackers like they used to.....
Anyway, back to Brazil.
Now I´ve finally hit the coast I´ve realised just how unprepared for Brazil´s beach scene I really am. Firstly, I´m not a great fan of beaches to start with. I hate the sticky combination of salt, sand and sunscreen, I can´t lie in the sun for more than half an hour and my tatty old addidas swimsuit and frightful cycling tan would be enough to raise a laugh even on England´s beaches let alone Brazil´s. What I want to know is, how don´t Brazilian women get tan lines? Do they just buy a dozen different colours of bikini but in exactly the same style? No-one goes topless, but they might as well all be naked. Dental floss bikinis are all very well, but should you be allowed to sunbathe on your back with your knees bent up whilst wearing one? I´m starting to feel like a gynaecologist.......
Unlike most of their South American neighbours, the Brazilians are a pretty fit lot. They spend a lot of time running, cycling and using the outdoor gyms (there are even devoted "stretching stations" along the cycle/running paths), yet they still come around the mid twenties in the Olympic medal league table. Last time they came between Norway and Croatia, whose combined populations could easily be lost within Sao Paulo alone, but I´ve discovered the reason......Brazil has only one sport (unless you include the other one which is played semi-naked) and Brazillians balls are definitely ROUND!
Football is not just a sport - it´s a national obsession. I watched a sport programme on TV the other day. It showed 44 mins of football coverage and then 1 min of women´s volleyball, which was being played in front of an empty stadium as it was indoors and therefore the women were wearing clothes. No-one, but no-one attends a football match in anything other than their team strip, so the spectators are just a sea of one colour and everyone gets hysterically over-excited. Still, I guess it´s what makes them one of the best teams in the world, though they still haven´t got over losing "their" World Cup.
On to more interesting subjects...like food and beer. Like every other country, Brazil´s beers comes under many different names (Skol, Brahma, Atlantica etc) but they are all basically fizz, but at least they are served icy cold. Unfortunately they also come in 600ml bottles, which is doing nothing for my waistline.
Food is a bit more interesting than Chile/Arg (you get beans with your fish/meat/rice/salad), but most of the fast food is super-high-calorie - burgers, hot dogs, fried everything. The other option is "Buffet Livre", an all-you-can-eat buffet. This tends to encourage greediness, so the better option is the "por quilo" buffet, where you pay for what you eat by weight. You can often end up with funny combinations though - fish, lasagne, spaghetti. salad......
The other day I bypassed a Prawn Festival (who wouldn´t?) and stopped at a fish restaurant, but when I ordered a grilled fish I was surprised to be handed a fishing rod! This wasn´t going to be fast food! I sat under a tree beneath a couple who told me they´d been there 3 hours and hadn´t caught anything yet. I was in danger of dying of hunger! Thankfully, for someone who hates fishing, my super-feremones kicked in and 20 minutes later the three of us were sharing my catch.
After leaving Porto Alegre, which was so quiet on a Monday that they even issued leaflets giving tourists suggestions for what they could do til Tuesday came around, I hit the coast and have been stopping at all sorts of beach towns. Some are quiet little places, others suffer from what I call "Gold Coast Syndrome". Due to the greed of the developers, the rows of skyscrapers are so tall that the east-facing beach is in shade from midday onwards.
After slogging up hundreds of kilometres of motorway hard shoulder (with the concurrent number of punctures from all the shredded truck tyres) I finally caught a ferry over to the idyllic little island of Ihla do Mel (Honey Island). Well, it would be idyllic if it weren´t as dead as a Do-Do´s Doo-Doo in the depths of the off-season. I was the only person staying at my hostel. There´s quiet and there´s quiet....Think Herm on a wet Wednesday in November, only with hibiscus and hunningbirds rather than crocosima and sparrows.
So, now I´m back on the mainland in the town of Paranagua, which is a glorious, faded colonial gem with a laid-back atmosphere. Tomorrow I will cycle up to the town of Morretes and take what is supposed to be a spectacylar train ride up to the city of Curitiba and then leave Norma for a few days and catch a bus to see the famous Iguacu Falls. From there I will keep cycling up the coast all the way to Rio and then......wait or it.....I fly home!
Yes....the evil deed is done. I´ve booked a ticket home from Rio. I arrive back in the UK on 11th June, so will be back in the Valley for Meat Draw on Sun 14th. Not sure if I´m happy or sad, but I´m very much looking forward to seeing you all again.
So, brace your livers and make sure the sun is shining.
Tils next time peeps......
J xxxxxxx
Diary Photos
---