Our Baja Adventure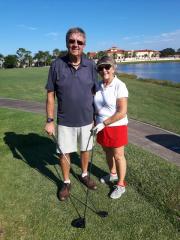 24th Jan 2017
Enjoying the great weather
~~Enjoying the great weather here, fortunately the cool weather experienced in other parts of the US did not arrive in south west Florida. We are enjoying some great golf and of course pickleball twice a week. This past weekend the admiral suggested we enjoy the great weather and a walk on the beach, so we went to Manasota beach that we had not been to before. Enjoyed a great day and dinner at the marina restaurant.
We are getting excited about our move to Ponce Inlet Florida, February 10th. We have purchased a trailer to move the boat there. I have been busy carrying out maintenance on the trailer (breaks and new wheel bearings). Also, loaded the boat and took it in for servicing.
As the boat is a bit large for our vehicle and it's a 2006 model, we have decided to rent a truck to pull it to Ponce Inlet.
Diary Photos
24th Jan 2017 Enjoying a game of golf
No Description
---
24th Jan 2017 Boat loaded
No Description
---
24th Jan 2017 Boat in for service
No Description
---
24th Jan 2017 Manasota beac
No Description
---