Our Baja Adventure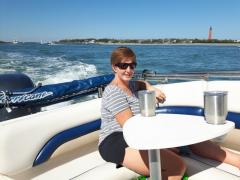 19th Feb 2017
Enjoying the move to Ponce Inlet Florida

We are all moved in and enjoying Ponce Inlet Florida (Suburb of Daytona Beach). Thanks to Kevin and Kendra for the help getting all our things and our boat safely across the state. It would have been a much harder job without their help.

After getting settled in we had a great time with them; lots of fun games of pickleball, walks on the fantastic Dayton beach, boating and a trip to Kennedy Space center with granddaughter Kiana and Ty who are here visiting for a week of R&R after a week of exams. The weather has been great, we were able to launch our boat and take a trip down the inter coastal water way; even venturing out into the Atlantic Ocean.
The day at the Space center was very interesting and a lot of fun for all; an exhausting, full day!
This week is race week here and very busy with races, time trials in preparation to the Daytona 500 next Sunday. Yesterday to start things off there was a parade with many vintage race cars along the original race course with the east leg on the beach. We took our chairs down to the beach and watch the cars go by.

Diary Photos
19th Feb 2017 Boat ride on Intercoustal waterway
No Description
---
19th Feb 2017 Boat ride on Intercoustal waterway
No Description
---
19th Feb 2017 Enjoying smiles with Kiana and Tyler
No Description
---
19th Feb 2017 Day at Kennedy Space center
No Description
---
19th Feb 2017 Kiana checking out the Saturn V rocket
No Description
---
19th Feb 2017 Kiana andd Ty
No Description
---
19th Feb 2017 Vintage race cars
No Description
---
19th Feb 2017 Vintage race cars
No Description
---
19th Feb 2017 Watching the parade on the beach
No Description
---
19th Feb 2017 Vintage race cars
No Description
---
19th Feb 2017 Vintage race cars
No Description
---