Our Grey Nomad Adventures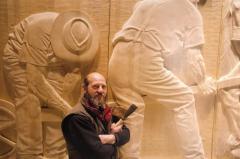 19th Apr 2017
The South West wilderness
After Dad left we went to the south west wilderness area.
How gorgeous is that. Drove all the way to the Gordon Dam and saw that magnificent feat of engineering in the dam wall.
Lunched at Lake Pedder. Did the waterfalls in Mt Field National Park.
Went to The Wall in Derwent Bridge. This is a huge wall of Huon pine that tnhis chap has carved with a story of the settlement of Tasmania. It is sooooo real. if you ever come this way, it is s must. You can feel the grief in a ladies face and the joy in another piece. It is the most amazing piece of art I have ever seen and I did not need the Posh Pit to get me ready for it. Ken and I simply sat there for ages spellbound by it.
The weather has now started to turn for us. We have had such great weather to date.
But it is autumn hey and we are in Tasmania ! Our first "bad " weather day was cosily spent reading a good book. Since it seems to have set in, we are now simply embracing it and exploring anyway !
Cannot believe we have only one week left in our two months here. We are hoping the rain clears here tonight in Evandale cos the Southern Lights are at a really high level and this is the perfect spot to see it. Fingers crossed !
Will be seeing you all soon !
Diary Photos
---