Our Grey Nomad Adventures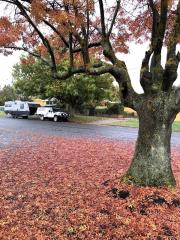 28th Apr 2017
Leaving Tassie tomorrow...
Well we are here in the ferry queue waiting for Happy Hour to start !
How fast have the last 2 months gone.
We finished up at Clarence Point near the head of the Tamar River. We stayed at a spot that was literally almost in the middle of the river. It was magical !
Went and saw the Targa, held some seahorses in our hands, chased a few echidnas and listened to the Anzac day footy match.
The horses now have their coats on down here. The leaves are falling, as is the rain. It is chilly at night. So................... we love you Tassie but............... time to head north !
Diary Photos
---