Our Grey Nomad Adventures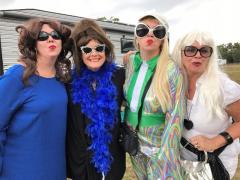 6th May 2017
Three Sisters Weekend at Abba Festival
Well do we look like the Dancing Queens ??
My sisters and I have a Three Sisters Weekend each year and this year we went to the Abba Festival at Trundle.
We stayed in the caravan together, and had such fun. We adopted Chris's friend, Stacie, so she came with us too.
We are now back in Sydney where we have had a great week with Dad, a lovely Mothers Day today and are headed to Borneo on Tuesday.
Hope you all had a special funfilled family day today for Mothers Day too.
Diary Photos
---