Our Grey Nomad Adventures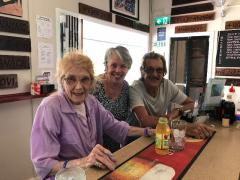 16th Jun 2017
Warning: this blog has graphic images.
Well we are in Ayr tonight on our way to Cape York.
We have been on the road for a few weeks now. We have been enjoying some time wiith family and mates on the way to here.We visited with Ken's sister, Barbara and her family, and also Ken's brother, Dick, on the way up. We then had a lovely catch-up and lunch with some longtime friends, Noel and Glenda, who have moved near Bundaberg. And the past few days we spent with Ken's stepmother in Mackay. She was so excited to be with us, she told us she could not sleep. How sweet.
We had a litlle mishap with Ken's toe in Mackay. He was taking off the weight distribution bars and the pipe he uses to do that slipped and sliced his toe badly. Ouch ! It is looking much better today though than it does in the pic. He was a good boy in the hospital and left with a lolly for not crying when he got his needle !
We have been reading avidly as we stay at some fantastic campsites.
We loved Bundaberg. We went to the Bundaberg Rum distillery...... the pic tells how Kenny felt about that... We also went to the ginger beer brewery too.
We head towards the Atherton tomorrow. Some wonderful friends we met in Tassie live there and we are going to leave our caravan at their place when we head to the Cape. We are going to spend the second weekend in July with my twin and his wife, Eileen, in Cairns. We are looking forward to that.
Then it is onto the "TIP" and ALL those corrugations !! LOL.
Keep you posted !
Diary Photos
---