Our Grey Nomad Adventures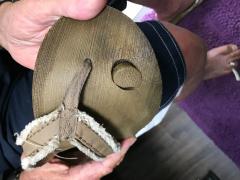 28th Jun 2017
Catching up..... before the tip trek.
We are now in Mareeba. About to leave our caravan at our wonderful friends, Peter and Pauline, at Lake Tinaroo while we venture to "the tip" where we will camp our way up and back.
Thanks to everyone who called us about Ken and his foot. It was so sweet of you, and so nice to hear from you. We love your messages on the site here too.
Ken's foot is progressing well, according to all the pics I send to my sister, Bernadette, who is a nurse. The next thing he will be in hospital for will be RSI of his fingers from the two-finger wave he gives to all passing caravans ! There are lots of them going south… so there are lots of waves !! Must be making space at "the tip" for us !
We will be going camping (yes in a tent..) for the next week around Cooktown and the Battlecamp Track. This will be interesting as it has been raining….. so we hope it stops before we become campers !! FunUp will be like heaven when we get back to her !
Herberton was a great place to stay. The historical village there was amazing. Trouble is half the stuff in it we used to have before we sold the house and lots of that stuff…. How fast does one become "heritage"….. I especially loved the old schoolhouse and have put pics here of exams from that time. Just adds proof to my red pen adoration…… cos I do not think the kids today at the age these tests were for, could do them. I loved the "old" textbooks…. In fact the Maths Problems one I have been using for years … LOL.
We meet my brother, John, and his wife, Eileen, in Cairns on July 7. We are looking forward to having fun with them.
Then we head to Weipa so that Kenny can be there for the State of Origin decider. Wanted to be in a memorable place for that, and with all the miners and campers in Weipa, it should be memorable "on the gulf". Of course, Kenny goes for Qld since he was born in Mackay so……… we should not be "aliens" in the crowd…
So until after the "decider"…….
Diary Photos
---