Our Grey Nomad Adventures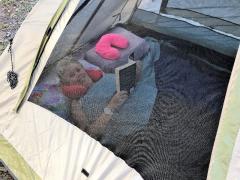 14th Jul 2017
The Tip Adventure…..
Well we are not drowned in some river on The Telegraph Track……..
My brother, John, and his wife, Eileen, could not come to meet us due to Eileen's nephew being very ill so we headed off early for the tip.
The internet is not that good up at "The Tip" …. So… this is the first chance we have had to do a blog…. Grab a coffee !!
We left the Atherton in rain and fog….. AND guess what ?? The rain and drizzle continued all the way to "the tip" ! So glad I bought that tent, instead of the swag. The difference being you can at least get dressed on your knees in the tent. In the swag , it would have been on my back looking like those movie stars trying to get into size 0 jeans !! LOL
The tent looked a lot bigger in the shop than it did when we finally put it up !
But, at least it kept out the rain !
We did not really know what lay ahead when we left the Atherton… but left anyway.
We hit the dirt after Laura…. FunUp (the landcruiser) is like a stallion on holidays. She is loving all these dirt roads and corrugations ! She rides over them like a dream (sometimes !)
We have had wild horses, wild cows, cane toads, snakes, kangaroos, emus and turtles to keep us entertained over the 9 million corrugations and red dirt.
We made "the tip" on 10-7-17 and you can all see the pics. I was determined to swim at the northernmost point cos I swam in the southernmost.
We had a memorable State of Origin decider in the northernmost bar in Australia.
We went to Thursday island on the one gorgeous day so far… AND loved teal seas.
We are now in Weipa, and about to head to Chilli Beach, Cooktown and then meet Kellie, my grade 3 student of nearly 40 years ago, in Cape Tribulation.
Enjoy the pics !
Diary Photos
---