Our Grey Nomad Adventures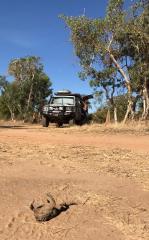 1st Aug 2017
How To Send Us A Message
Well many of you are having difficulties leaving us a message on Get Jealous it seems.
So here is the way to do it. Okay ?
Most of you are on mobiles I think when you get the email that we have posted.
So you go to the bottom of the page and you click Desktop. A new page will open up.
This is the main page and you will see some green tabs at the top. The one on the absolute right says Message Board. If you click that, it goes to the place where you can leave us a message.
We love getting your messages but we cannot reply to the messages though.
You can always email us at holtie@tpg.com.au as well and we reply to that !
We will post again in a few days. We are about to head to Lawn Hill National Park.
We are currently in Karumba right on the Gulf of Carpentaria. The internet is VERY slow though so I do not think the pics would upload here so will wait till we have a better strength of internet to do it.
Diary Photos
1st Aug 2017 Experiencing Queensland's finest
I came upon this cane toad way past his use by date. There are so many of them here !
---