Our Grey Nomad Adventures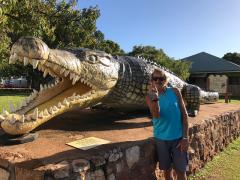 3rd Aug 2017
Heading South to the Gympie Muster
Hi all,
We are now heading south to the Gympie Muster.. We are in Julia Creek right now. Heading off to the local campfire dinner the community puts on every Monday night for the Grey Nomads. Sticky date pudding is the desert so Ken is happy.
We went to a similar one at Leichhardt Lagoon out on the homestead and it was such fun !
We stayed in Karumba for several days. Was so relaxing. I lolled around the pool at the park as we waited for our friends from the Atherton, who had been on an adventure across the NT, to come to town. We went on a bird watching cruise which was "interesting"..... birds are so small up here we hardly saw any....
We then went on a sunset/croc spotting cruise with Peter and Pauline too. Now that one was fun, and we saw more birds on that than on the morning one !
We went swimming, canoeing and walking in Lawn Hill National Park. Been very relaxing.
Should be in Gympie by next week and looking forward to catching up with some of you then.
Got to go get ready for the dinner !
Cheers.
Diary Photos
---