Our Grey Nomad Adventures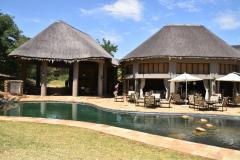 21st Jan 2018
An elephant charged at us ......
We are about to leave Pilanesberg and head down to Pretoria to catch the Blue Train tomorrow.
How exciting has it been here in Pilanesberg. We have seen all the animals under the sun: lion, hippo, zebra, wilderbeast,giraffe, warthogs, mongoose, rhino, baboons,impala, kudu... and the list goes on....
This big elephant was asleep by the side of the road. When he woke up, he charged at us.... you should have seen our vehicle reversing at the speed of light.....
The giraffes are so graceful... the skin of all the animals shine so much from good health (cos only the healthy survive..)
Got to fly... the pics tell some of the story....enjoy !
Diary Photos
---