Lawley Wheelers' Giro 2012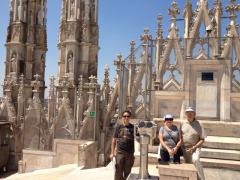 29th May 2012




Prelude V - Milano



Left Bellagio by car ferry early Sunday and caught train to Milano. Easy to ride across townvia Piazza del Duomo to hotel on Via Torino as the city was closed to private traffic for the finale of the Giro. Caught up with Brendanovich. Pizza for lunch then off to the Giro picking up Mick on the way through. Great fun watching the top riders start at Parco Sempione and then walking back to Duomo to see then come in. Up close for presentations etc. all very thrilling.
Then found Jo and Simon. Excitement building all the time as team Secondo came together. Very forgettable dinner but good jokes from Mick to make up.
Yesterday after seeing Mick off to Nice we did a 56 km ride to Abbiategrasso and the Abbazia di Morimondo on the Ticino R west of the city. Pleasant ride out from town on Naviglio Grande with picnic lunch at Gaggiano. Abbey was beautiful. Lots of cyclists there and on the canal cycle track. Rather adventurously went off piste on way back. Heading across to Binasco in order to return along the Naviglio Pavese we ended up on a main road in peak hour. All a bit stressful, but with some help from yet another Nonna we eventually found the canal and all was well until we got into the old city, not far from the hotel when Sharon got caught in the tram tracks - someone had to do it - and crashed spectacularly on the flagstones. Fortunately there was no tram behind her. As bravely as any grand tour rider she picked herself up and looked around for the team car. Fortunately the knicks were not torn and only a few hand and knee scrapes suffered.
Back at the hotel we were enjoying beers and chinotto when the Sullivans turned up bringing our number to seven. Dinner was at the Rugatino on the Piazza San Lorenzo on Via Porta Ticinese. Al fresco. Lots of carciofi. Excellent Barbera D'Alba. Bel tempo!
This morning we await our remaining team primo members Bill and Bruno who are on their way right now. C'e tutto allora. Hope to post photos a bit later. Ciao ciao!



Diary Photos
29th May 2012 Duomo Milan
---
29th May 2012 Three bananas
---