Liz On The Loose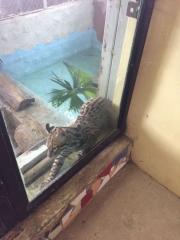 29th Jul 2018 - Journey to the Galapagos
Sloths!
I woke up this morning to the sound of birds calling to me. I checked my phone and saw two messages from Cheryl. She had finally landed. I got ready to meet her at our hotel reception with a big hug. I quickly showed her our room while we got ready for our next two tours.
We started with a monkey boat ride at 8:45am. We were picked up by a jaguar print truck (I kept calling it a Lego truck). The sides of the truck were open with a small chain that they put across when driving. I noticed we were being filmed while we waited in the truck. Our other passengers joined us and one lady said, "you will be filmed for a TV show. Okay." I guess that counts as a legal release form in Panama. Hahah. We rode down the hotel paths to be dropped off at the docks. There we were introduced to our tour guide and boat driver. We donned our life jackets and hopped in the boat, ready to go.
While we made our way out to the monkey islands on Lake Gatun, we waited for large tanker ships to pass. Here, our guide told us a little bit about the canal and how there are only a couple of pilots allowed to drive ships through the canal and they must board each ship to pass. He also pointed out a very large crane they call Titan. It was commissioned by Hitler, as well as three others, and was purchased for one dollar by Panama once it was completed. They aren't sure where the other three are. They use it to help open and close nearby gates that weight 700 tonnes.
We zoomed off in our boat to make it to the islands. I have heard that earlier is better. There we wove our way around the islands and saw: many birds (I remember Cara Cara, Tiger Hawks, and Cheryl can fill you in on the rest), iguanas, howler monkeys, capuchin monkeys, and tamarind monkeys. The capuchins are the "Marcel" monkeys from "Friends" and they came close to every boat. Many private boat operators feed the monkeys, Gamboa Rainforest Resort does not. It is a catch 22. The monkeys then become reliant on the boats and it upsets the ecological balance. Yet, many capuchin monkeys came down close for the food (which resulted in some nice photos). I am happy we didn't feed them, yet they come close for the food. If you choose to go, it is a decision you will have to make for yourself.
We headed back to the hotel to jump on our next tour...we had to squish everything into one day since Cheryl was delayed. Next was the ecological tour and sloth sanctuary. Again, we boarded another jaguar Lego truck and headed of down a road going in the other direction. We started in a very weird taxidermy animal museum...I didn't enjoy it. Then we turned a corner to see the cats that have been rescued (mostly due to being struck by cars). The first was an ocelot and she was adorable. She was rescued as a small baby and was excited for attention. She came right to the glass and nuzzled right up to us. I spent a long time watching her and missed the description of the other animals. However, there was an anteater, another ocelot, and a porcupine.
We headed to a frog sanctuary and I was expecting to see frogs the size of my fist. They were minuscule. There were a couple that were the size of my pinky fingernail (or even smaller). There were two main frogs I saw, a super tiny red one, and the black and green ones (they were the size of a cotton ball). Next were the butterflies. I couldn't get a picture of the bright blue butterflies that I loved in Bolivia. There was once that often flounced around, but I seemed to always miss it.
The next building was the best...sloths! I rushed to be near the front. No shame here. Oh my goodness, these cuties pies were just the best. The first group we saw were all babies. There were four of them all clinging together in the most adorable ball of fur every. Volunteers would stand near them, offering them boiled carrots, green beans, and sloth biscuits (the boil them to make sure they get enough water). The sloths are quite motionless most of the time, unless the food is near. I got some adorable feeding pictures. I just kept snapping picture after picture. They were too cute! We had to rush off as some of our group was going to the boat tour. I asked our leader if we could stay to spend more time with the sloths since we weren't going to the boat. She said, "after your orchid visit." I wasn't much interested in orchids, but I didn't want to look a gift horse in the mouth.
I am glad I went to the orchids. Natalia was our guide for this section and she was phenomenal. She said, "Do you know what orchids are?" I replied 'yes', assuming she was checking her translations. She continued, "Okay, so you know they are like testicles!" I nearly choked. Nope, I didn't know what she was referring to. She explained about the stamens and the pistens on each flower and how you can cross breed them to create beautiful new flowers. She then went on to explain about how each plant is named, national flowers, how to care for the flowers, etc. We also toured the local medicinal plants found here in Panama and how they were all used. She also pointed out toxic plants. The flowers were gorgeous and I really enjoyed learning from her.
Now came the awkward part. Another 4 people didn't go on the boat tour...how do we get back into the sloths without alerting them to our deal? Natalia said, "Feel free to go to the sloths." We did. We went back and had the place almost entirely to ourselves for the next 90 minutes. I was so happy. We snapped pictures and wandered freely among the nine sloths there. They play very calming zen-like music in here. Cheryl kept calling it the sloth ballet, because they move so slowly and deliberately to the music. There are branches where the sloths hang out, but there are also baskets that they can sleep in. It was so cute to see the sloth in his picnic basket. Again, our film crew showed up and we were filmed again. It was organized my a company called 'Panamazing' and her microphone said 'D'Paseo'. Not sure where you will see us, but we will be famous!
We headed back for some lunch overlooking the Chagres River and once we were done we were going to go swimming. Just then, the thunder rolled in and the rain started. Staff were asking people to get out of the pool. We were going to when the rain stopped, but it seemed to go on and off for hours. We got to the room and right away Cheryl spotted the Capybaras out for their afternoon lunch on the green grass. I could get used to watching them every afternoon from my hammock. Cheryl passed out on the bed (after only 1 hour of sleep and a long 2 days). But was up only fifteen minutes later. She is crazy.
We noticed that there were people swimming, so we had to go! The pool was phenomenal and I can't believe there weren't more people in it. It was so refreshing after two days of hot and humid weather. We enjoyed the lovely mosaic tile and waterfall in the pool for about an hour until we were chased out by more rain.
We again watched the capybaras from the hammock while we waited to be given our new room (the elevator was broken and they didn't want guests walking up I guess). Our other room had a way better view of birds and capybaras, but the sun was setting and we had already used up all of the good watching time!
We had a lovely steak dinner in the hotel bar area and headed back to the room to relax before our city whirlwind tomorrow.
Goodnight.
Diary Photos
---