Liz On The Loose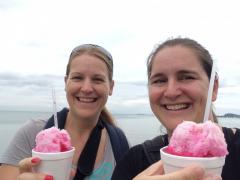 30th Jul 2018 - Journey to the Galapagos
Capybara tracking, shopping, and a rooftop swim!
This morning we woke up in the Gamboa Rainforest Reserve to rain. Then more rain. With nothing but rain on the horizon, we decided to change our plans to spend the morning lounging at our hotel. We joyed the breakfast buffet that was offered. We enjoyed omelettes, waffles, and local Panamanian breakfast items (like cassava).
We headed back to our room for one last swing in the hammock. Cheryl and I were enjoying the view, when she jumped up during a break in the rain and said, "Let's go track some capybaras!" The trail to get their was often non-existent and completely soaked. We crept through the grass to where my capybaras often played and were able to spot one for some photos before we headed back to catch our ride into town.
Back at the original site of my taxi cab meltdown, we arrived at the Innfinity hotel to find they gave us a very nice room with a spectacular view of the ocean. It was much nicer than the first room we were given and I think it was due my tears. Cheryl was happy about the view because she was sad that the rooftop infinity pool was closed.
We decided it would be prudent to go to the local mall to find Cheryl some sandals for the trip...in case her luggage doesn't arrive. At the local mall we found original Tevas for $16 in addition to a couple of other finds! We quickly scoured for some rings, and Cheryl found a pack of three (1 was nice). We felt it was a good 'safety' ring and we will be checking at the airport tomorrow. We were rushed and didn't want to miss the shuttle back to the hotel.
We talked to the concierge about dinner and it was casually mentioned that the rooftop infinity pool was open. We hurried up for a quick swim, some photos, and a beer (for Cheryl). It really was lovely. We went up just before sunset and enjoyed watching all of the tall buildings light up in the night sky of the Panama City skyline. The water was chilly (which would have been nice during the heat of the day, but since it has just rained, the air had cooled. We went to a traditional Panamanian restaurant for dinner and had empanadas, ropa viejo, and arroz con pollo. Delicious.
On our way home in the cab, Cheryl got a call about her luggage. They were at the Gamboa Rainforest Resort, not Innfinity. They said they would deliver again in about an hour or two. So, here we sit up in our hotel room waiting for her luggage to arrive. Fingers crossed everyone.
Goodnight.
PS. I have forgotten about how when I was in the cab to the rainforest and kept seeing sloths in the trees. It turns out they were a nest of some sort of bird. They are attached to the branches on the trees and it kept making me think they were sloths. So, now we call them sloth nests.
PPS. At some point I decided to write a limerick.
There once was a girl from Canada
Who didn't feel like going to Havana
She heard from word of mouth
To head further south
And that is how she came to be in Panama
Diary Photos
---