Liz On The Loose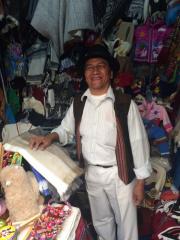 1st Aug 2018 - Journey to the Galapagos
A lovely start and end to a wonderful day in Bogotá
No better way to start your day
This morning we chilled a little in our room. Instead of jumping up to shower, we checked the internet and looked out the window at the beautiful city. I should mention here that I forgot to mention yesterday how clean Bogotá is. The city is filled with beautiful red brick roofs and tall apartment buildings, but everywhere is clean. I was surprised by this, as I thought Panama City would be this clean or that Bogotá would be the same as them. However, Bogotá is really well looked after. Cheryl also wants me to mention that the blackout blinds are incredibly effective. She was in the washroom when I opened them. She went in there in absolute darkness and came back to a sun-filled room. This hotel does things right.
When we went down to breakfast we were greeted by a jovial older gentleman named Edgar who gave each of us a kiss on the cheek and a BIG hug. He acted like he was waiting for us all morning to arrive. They quickly served us coffee and tea as we selected our breakfast items and ate by the window overlooking the mountains. When it was time to leave, Edgar came to give us a big hug and a kiss goodbye. What a lovely morning!
We asked at the front desk before going upstairs about the concert/celebration that was being setup across the road. Cheryl had googled that it was the Copa cup. That game we saw last night was the final game to determine who was going on to represent them in a bigger tournament later in the year (apparently it is a big deal). When we got up to our room, we saw the concert preparations were mostly done and there were men announcing non-stop over the speakers. However, there wasn't anyone there in the audience. We think they were announcing jobs to people as some were still bringing chairs and podiums outside. We think the big celebration will be today when we are out exploring (I doubt we would get inside the government grounds anyway). Although, we might be able to watch the party from our room later! Also, the dog handlers were out this morning with the dogs. We saw all of the German Shepards, Bernese Mountain dogs, and chocolate labs frolicking in their area of the grounds for exercise. They kept bringing out new dogs to play, do agility training, and some to work. Forget the party at the stage, I want to go play with those dogs!
We headed off to the Candelaria district of Bogotá. I am dressed in light summer pants and a t-shirt. I mention this because I have been the only person in a shirt both days. At the top of Monserrate yesterday, almost everyone was wearing puffy parkas and scarves. I found the 15 degrees Celsius to be quite lovely. I digress. We asked to be dropped off at the Gold Museum in the centre of the areas we wanted to wander around. Cheryl was checking her map on her phone when we were standing right beside a jewellery shop...well, I am sure you can guess what was going to happen. We went shopping right away and found lovely alpaca scarves and silver rings of course! The day in town was off to a great start.
We wandered to the Plaza Bolivar where we encountered human statues that come to life for a fee and hundreds of pigeons. Tourists were walking amongst a wall of pigeons for some photos. I was happy to stay on the government building steps on the side and enjoy the show. It seems like the plaza is being set up for some big event and we were excited to move on. We walked towards areas of the old town that are said to be quite cute. We weren't disappointed. Cheryl and I happily snapped hundreds of photos of adorable houses with ornately carved window frames, clay roof tiles, and brightly painted cement walls. We wandered up and down many areas and could possibly map most of the area with our combined photos. We reached the one road called the 'funnel' and at the end I was face to face with some beautiful graffiti. I failed to mention the graffiti yesterday. It is everywhere and it is gorgeous! The artistic talent here is amazing. Many blogs mentioned Bogotá Graffiti tours and I thought that would be an odd choice, but it makes sense. The are here is phenomenal. So, again we wandered around where the graffiti led us and taking many pictures. At one point, we were at a youth park where there were two intense soccer games in progress and a group of boys skateboarding amongst the artwork. I should mention here, that everywhere we wandered we were treated so well. In fact, at one point we were walking beside a construction zone and a local man had the men behind him on our side of the pathway move behind and free up space for us. I almost feel like it was a nation-wide initiative to treat tourists well. I have felt so safe and welcomed here in Bogotá.
Rain kept threatening all day and it was our intent to visit the Gold Museum when the rain started. We got caught twice in the rain, but it never lasted long. We still went to the museum for the time frame for when rain was predicted. I learned so much today. The thing that was the coolest for me was when I learned how many gold items used beeswax to create their gold jewellery and items. They sculpted ornate earrings, then surrounded in in clay, fired it, dumped the wax, heated the gold, poured it in, and then broke their mould to see it all worked. Then they would have to start over since they already wrecked their mould. We also learned that gold was viewed at the harnessed energy from the sun and the symbol of men, whereas the symbol of women were lakes. Therefore, many religious and sacred ceremonies involved covering yourself in gold dust before jumping in the lake, or throwing the gems in himself. The thousands or artifacts were amazing. At the end of all of the exhibits we saw, Cheryl said that she hadn't seen the large gold boat. I was about to ask an employee about it, while Cheryl googled it and found the picture she remembered and it was a tiny object we saw upstairs in a room all to itself when it was only about the size of two hands put together. Haha, it was quite funny to see expectations vs. reality sometimes.
We headed off to dinner and ended up at a restaurant called Sanelejo for some Colombian food. It was so delicious. We had traditional chicken soup with potatoes, avocado, a section of a corn of cob, shredded chicken, and sour cream. It was phenomenal. I highly recommend it. It might be worth recreating at home later. Cheryl really wanted a video of this one building illuminated at night. We wandered around looking for it, but came up short. We were in our taxi two minutes and there it was. We got some odd videos of it, but at least we got them!
Once back at the hotel, we found mints on our pillows! It is so lovely at the Tryp by Wyndham hotel. Perhaps, tomorrow at breakfast we will get more hugs...
Goodnight.
Diary Photos
---