Liz On The Loose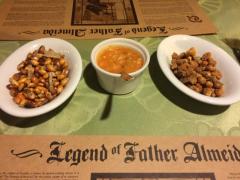 2nd Aug 2018 - Journey to the Galapagos
Heart Rate 164 bpm today!
I honestly didn't think that I would have much to write today. Truly.
This morning Cheryl and I enjoyed a lazy morning. We started with a hug from Edgar before our breakfast. I should mention here that all of their name tags has a section on the side where they listed things they were passionate about, Edgar was interested in travel and had been to places like Korea, Italy, and Argentina. What a great way to connect with everyone at the hotel. We headed back to our room to pack for our airport shuttle. It was to leave at 11:30am. It didn't. Here is where the stress started. We left 15 minutes late, which isn't a big deal, but we were cutting it close anyway because the previous shuttle was significantly earlier. Then, of course there was an accident and we were stopped. I was getting very stressed. I made Cheryl google flights and was resigned to the fact that we would miss our 2:17pm flight and would be on the 8pm flight instead.
By some miracle, just as Cheryl and I were going to jump out of the van and run the police started letting vehicles through. When we passed the 'accident' we saw a car that had virtually no damage on the left lane. No idea why this had to cause so much chaos (police and ambulance). I should quickly mention here that I noticed police at virtually every corner in tourist areas. Back to the story, we quickly jumped out at the terminal and ran to check in. Thank goodness for kiosks, all we had to do was quickly deposit our bags. My stress level was going down. Or so I thought. Inefficiency of the check in/bag drop was crazy. I knew we still had security and immigration to do too! Argh! At the bag drop, the lady told us to hurry. Yeah, thanks!
During the lllooonnnggg immigration line we kept talking about Cheryl's hear rate monitor watch and how it would be crazy on me. I am more acutely sensitive to altitude and more easily stressed. So, she put it on me. We ran through immigration, security, and then ran to our gate. Wrong. We followed the arrow to the gates, but it sent us one way to force us to go through the duty free shop, but we had just run for 5 minutes the wrong way. Argh. We turned and ran and ran and ran. It took so long. I kept looking at my heart rate and at one point it was 155bpm and I called out "155" to Cheryl and she turned on her extra booster pack. I think she thought I meant the time 1:55pm (although, that wasn't that far off). I tried to keep up with her. I didn't. However, I looked down and saw that my heart rate was 164 bpm. Altitude, stress, and running was a crazy combination for me.
We made the plane. Barely. However, we were being loaded on to buses and they ran out of buses before they called our group to load. We had time to relax a bit. We ended up leaving an hour late, but arrived only 2o minutes late. When I looked into it, it seems that they purposely schedule two hours travel for a 60 minute flight (we spent about 40 minutes taxiing). We were also worried that our flight attendants had forgotten our customs cards, but it turns out that they are fully automated. It was awesome.
We were picked up by our Celebrity Cruise representative and chatted for the hour long ride. She told us about the hotel, restaurants, the cruise, and the area. We drove along steep cliffs of the mountainous area. It was a lush green and breathtaking. The winding roads were larger for most of the way, but at we ascended the tallest part of our mountain, it was narrow cobblestone streets when houses that you could reach out and touch. Quito is the second highest capital in the world after La Paz, Bolivia.
Our hotel is phenomenal. We were greeted by our Celebrity people who gave us a welcome drink which was part cinnamon and naranjilla (a orange-tomato hybrid), it was delicious. We also got a refillable water bottle to eliminate the need for water bottles to protect the environment. I love this. Our bathroom is almost three separate rooms with a large soaker tub, shower, and toilet in separate areas. The basket of goodies made Cheryl and I ooh and aah at the freebies. We didn't linger too long as we wanted some dinner.
We followed the suggestion to go to a local Ecuadorian restaurant for dinner. We enjoyed freshly squeezed blackberry juice, naranjilla juice, local corn pancakes with guacamole, shrimp stuffed avocado, and cheese and potato quinoa soup. After we headed out to the highly recommended crepe place for authentic hot chocolate. It was delicious.
When we got home we were eager to relax and settle in before our big day of touring tomorrow. We get to meet everyone who will be on our cruise, that should be a lot of fun.
Have a goodnight.
For Dad:
BOG-UIO = Airbus A320
Diary Photos
---