The Wacky Adventures of Levi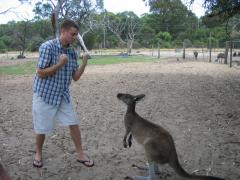 11th Mar 2006 - 13th Mar 2006




Kangaroo Boxin'



We went to a wildlife park just outside of Perth last weekend. They didn't have any penguins... needless to say, I was rather hungry by the end of the trip.

Anyhew, I got to hold a koala which was just oh so cute, as well as hand feed and pet tons of kangaroos, baby deer, ostriches, and some other less significant animals.

Then it happened... I thought to myself, "what kind of a person would I be if I travelled all the way to Australia and didn't get into at least one boxing match with a kangaroo?". I'd be a pretty SHITTY person, that's what. So, I spent a half hour or so sizing up the kangaroos at the park, until I found the smallest, weakest looking one. So, I now had the size advantage, all I needed to do now was ensure I had an element of surprise worthy of the Japanese at Pearl Harbor. So, I took a handful of food in one hand, and a handful of dirt in the other... I slowly earned his trust by feeding him the food until i finally saw my opening. (I should caution you at this point. The rest of this story is rather graphic). First, I threw the dirt in his eyes, blinding the diminuitive marsupial. What would ensue will no-doubt go down in history as one of the bloodiest kangaroo ass-whippings in history. The element of surprise was achieved... I delivered ground shaking blow after blow before he even realized he was being attacked. His cries and wimpers would do nothing to yield my fury. The epic battle would continue into the night until finally, at the break of dawn, i would emerge victorious. With my foe's lifeless body in hand, I left the park, set up camp, and barbequed the tastiest damn kangaroo in the history of Australia.

OK, so most of that didn't actually happen. Alright, none of it happened. Those kangaroos are just so darn cute.


As for the photocopyin' job... uhhh yeah, I've been promoted already. What? I'm now an external loans settlement agent. I run around downtown Perth from bank to bank meeting other agents all day. Each meeting has a 15 minute window, and some unforseen problem ALWAYS comes up, so you're always late for the next meeting, and it's just a big ball of stress. Aside from that, it's actually quite fun as it's a very social job, and I get to meet alot of people.

That's it for me.

P.S. I've been doing quite crappily in my hockey pool since the olympic break, but there's still plenty of time for me to catch up to Cooner in first place.



Diary Photos
12th Mar 2006 The Battle
(no I didn't actually punch the kangaroos)
---