The Wacky Adventures of Levi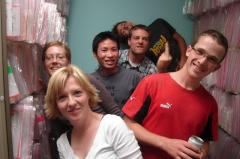 8th Apr 2006




Bye Bye



Been in Perth for 2 and a half months now, and I've had a wonderful time. But it's time to move on. Tomorrow morning, I will be leaving on a train for Adelaide. The train ride is about 2 days across the outback, then we'll spend 3 or 4 days in Adelaide and then fly to Auckland, New Zealand.

NEW ZEALAND for a month! I'll be meeting up with the always charming, Nathan Jesse, and one of his friends, Crystal, whom I am very excited to meet. We'll be touring the entire island and meeting heaps of other travellers, so there should be a plethora of stories to come.

The choo-choo train should be a cool experience too (gonna try and join the mile-long club).

Bye bye Perth.

I'm the L-factor.

P.S. Between my birthday on Thursday, and my last day of work on Friday, the past few days here have been an absolute blast (kind of a blur, but an absolute blast nonetheless).



Diary Photos
8th Apr 2006 Filing Room
Last day at work
---