The Wacky Adventures of Levi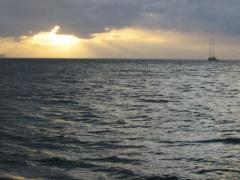 31st May 2006




Leaving Australia



Quick little update, as frankly I'm tired of writing these things.

I did the east coast in a hurry. Travelled from Cairns to Sydney via bus, stopping at a few beach towns, sailing the Great Barrier Reef, snorkelling, 4x4 ing Fraser Island, partying a bunch, and seeing the sights all along the way.

I leave Sydney tomorrow morning to fly to Singapore, then I'll head up to Malaysia and see a few things there, then spend a few weeks in Thailand, paying next to nothing for great accomodation, great food, and great women (many of whom aren't actually women, as i've heard).

Just about at the end of my travels. It's been a blast, and although i wish it could last a lot longer, it'll be nice to be home and sleep in a real bed, eat some real food, and see my family and friends.



Diary Photos
---