Liward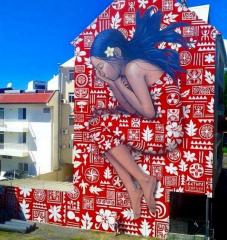 10th Apr 2015 - 13th May 2015
Where in the Fakarava are we??? – Liward back to Sailing! April-May 2015
We flew back to Tahiti on April 9 after 6 fun months in Florida. We found Liward looking really good in Marina Taina. Heifara took excellent care of her. We had a few projects to complete. One was the engine that would not keep its prime. After a couple of tries, Steve figured it out and had the Bosch delivery pump on the side of the injection pump rebuilt. While he waited! Everyone is so helpful and nice here. Then we had to fix the wind generator which stopped working. We just happened to have the spare but of course the new model did not fit exactly! I am pretty convinced that Steve can fix most anything! Then we had to do some varnish work. The rainy season in Tahiti was pretty bad this year so the varnish did not get done like we hoped. So we spent 2 weeks with Heifara's help and now Liward looks pretty beautiful! It has been over 20 years since we have varnished but we did pretty well. So we finally were ready to leave the dock and we sailed to Moorea for a week. Then we sailed 2 nights, eastward, to Fakarava! That's where we are sitting right now and I am trying to update the website which is not easy because there is no internet! So here's some pictures from our first 6 weeks back on Liward!
Diary Photos
11th Apr 2015 Tahiti Graffiti
While we were doing boat projects in the Marina we did manage to have some fun! Tahitian's are fascinated with graffiti. Maybe because graffiti rhymes with Tahiti! So each year they have a contest for the best artwork on buildings and fences. It lasts three days and they were all good but this one was pretty amazing!
---
12th Apr 2015 Largest Ukelele Band Tahiti
Tahiti made the attempt to beat the Guinness world record for the largest ukulele band. And they did, with 4750 participants! We went to the stadium to stand outside and listen. It was really amazing. We had some Texan friends that participated, learned the song, sang along and wore Polynesian clothes!
---
13th Apr 2015 Ukelele Virtuoso
They set up a big screen so everyone outside the stadium could watch. The opening entertainment was a ukulele virtuoso that could play Sting solo!
---
14th Apr 2015 Inside the Stadium
It was amazing to see so many Polynesians playing their traditional instrument. Everyone here seems to be able to play the ukulele! Every village had practices at their town hall to be sure the song was played correctly. The excitement was amazing!
---
15th Apr 2015 Outside the Stadium
The stadium would only hold 4750 people with the safety officials controlling things. There were at least 1500 people who registered but could not fit in the stadium. So they all sat in groups outside and played along. We could hear the music all around us.
---
16th Apr 2015 Tahiti Iti
We were invited to a party on the small island of Tahiti Iti. The party was up the mountain about 1500 feet. The air was cool and the sunset amazing. We arrived at 5pm and at midnight, after 6 courses, the cheeseplate came out. We politely said we needed to leave to drive an hour back to the marina. Our hosts asked "Aren't you staying for dessert"!
---
18th Apr 2015 Moorea Oponuhu Bay
Oponuhu Bay is one of our favorite anchorages on Moorea. The anchorage is in about 25 feet of water with a nice sandy bottom.
---
19th Apr 2015 Moorea Steve Snorkling
The water is crystal clear. Steve also got to surf the right wave at the bay entrance. Usually it only breaks In the winter but it was nice for a couple of days. Only a couple of guys out.
---
20th Apr 2015 Moorea Belvedere
We rented a car and cruised familiar spots. This is called the Belvedere with Cook Bay and Oponuhu Bay behind us.
---
21st Apr 2015 Moorea Underwater Tiki's
When the missionaries arrived in the 1800's they built a church right on top of one of the Polynesian's sacred Marae temples. So the locals took some of the tiki's and hid them in the water of the lagoon. There are about 8 located in 10-15 feet of water so it's a fun snorkel.
---
22nd Apr 2015 Black Tip Sharks
We also visited the sting rays and black tips but decided not to go in the water. These black tips looked a little bigger than we had seen before!
---
23rd Apr 2015 Moorea Perfect Lunch
Moorea has some nice hotels and we stopped by one for lunch. How's this for a perfect table, complete with hammock! We spent a lovely week in Moorea, checking out Liward to be sure all the systems worked.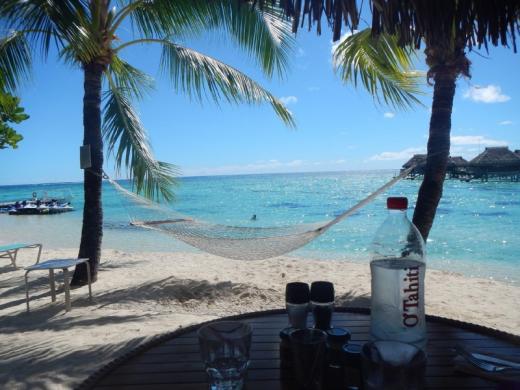 ---
24th Apr 2015 Fakarava Google Earth
So we picked a good weather window, at least the best we could hope for, for the 2 night sail to Fakarava. We were trying to go due east and the wind usually blows from the east. But we had one nice day of sailing with wind from the northeast and then motoring in light wind out of the east. The swell was very small. We arrived in Fakarava on the second morning and the pass was raging. The outbound current makes 4+ knots in the pass so we stood off for about 3 hours to wait for it to subside. It didn't so we entered the pass anyway but didn't have much problem. Fakarava is an atoll in the Tuamotu Archipelago. It was formed with the volcano sank in the middle and made a lagoon with a fringing reef. There are narrow islands around the perimeter. The island is about 30 miles long and 14 miles across. The lagoon is about 100 feet deep.There is one pass to the north and one smaller pass to the south.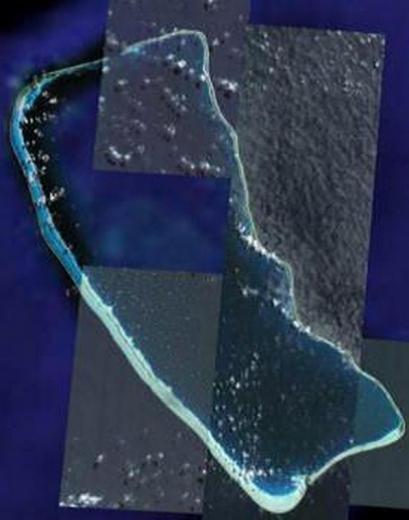 ---
25th Apr 2015 Fakarava
We put the dingy in the water and got our first look at the village of Roatava, Fakarava. It is a lovely village with about 600 inhabitants. There are a number of dive shops, 2 little groceries, a few restaurants, and an airport.
---
26th Apr 2015 Fakarava
Flowers grow abundantly and the village was neat and clean.
---
28th Apr 2015 Fakarava Coconut Trees
There is no shortage of coconut trees. But watchout standing under one! While we were in Tahiti we had locals come move us if we were standing under a loaded tree. They know!
---
29th Apr 2015 Fakarava Copra Drying Basic Operation
The coconuts are collected and split in two. Then they are laid in the sun to dry. If it rains, the open nut has to be turned over. After a few days the nut meat is removed and bagged for transport on the next supply ship. If you've ever tried to open a coconut, you know this is hard work!
---
30th Apr 2015 Fakarava Copra
Some people have copra drying sheds. The roof is on rollers so if it rains or night falls the roof is moved over the drying copra.
---
1st May 2015 Fakarava Church
The church in Fakarava was built by the French catholic missionaries in the 1800's. They brought skilled craftsmen from Easter Island because they knew how to build with coral blocks.
---
2nd May 2015 Fakarava Pacific Ocean
The atoll islands are pretty narrow, ¼ mile wide at most. So we walked over to the east side to see the vast Pacific Ocean. The beach is all coral with natural coral walls in the water.
---
3rd May 2015 Lili looks like her mother!
Whenever Lili stand's like this, Steve says she looks just like her Mother. And he means it as a compliment.
---
4th May 2015 Fakarava Lagoon Side
We walked south of the village and found this pretty little beach on the calm lagoon side.
---
5th May 2015 Fakarava Fishing Operation
As we walked back to the town dock to get in our dingy to return to Liward we saw an interesting fishing operation. School was out, so a few women gathered all the children to help fish. The kids threw rocks at the schools of small fish until the fish entered the enclosed dock area. Then the kids all jumped in the water and "herded" the fish into a tight circle. The managing women then jumped in the water with a fabric net and scooped all the fish up! Amazing!
---
6th May 2015 Catch of the Day
We watched them catch many buckets of fish. We thought it was bait but found out that the locals fry these fish up and love to eat them! We saw several people riding their bikes home with buckets of fish in the basket!
---
7th May 2015 Fakarava Bike Ride
We rented bicycles to see a little more of Fakarava. There is a paved road and even a bike lane. Which is pretty funny because there are probably only 20 cars on the island!
---
8th May 2015 Fakarava Lagoon side
There are a number of small pensions or hotels on the lagoon side and we found a nice restaurant.
---
9th May 2015 Perfect Stop
We found a prefect spot to stop for a swim and hang our hammocks
---
10th May 2015 Fakarava Tonae Point
The wind picked up to about 25 knots and our anchorage in the village got a little uncomfortable. So we moved about 10 miles south in the lagoon and found a nice protected spot. We had this stretch of beach all to ourselves.
---
11th May 2015 Tonae Point
So we set our hammocks up, did a little snorkeling, beach walking, cooking on the beach and just chilled!
---
12th May 2015 We love Fakarava!
So we have decided we really like Fakarava. We'll visit a few more anchorages and then check out the south pass where the snorkeling is suppose to be very nice. Our plan is to then visit the next atoll of Tahanea which is even more remote!
---