Liward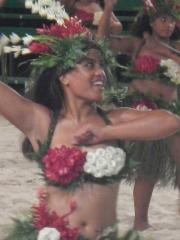 1st Jul 2015 - 26th Aug 2015
Island Hopping Polynesia– Huahine, Raiatea, Bora Bora, and Maupiti
This update covers July and August with 5 weeks spent in Huahine, 4 days in Raiatea, 3 days in Bora Bora and 10 days in Maupiti.
Diary Photos
1st Jul 2015 Heiva Dancing
After an overnight great sail from Tahiti, we arrived at Huahine with a bad storm such that we couldn't even see the island. So we waited offshore for the storm to pass before entering the pass. We arrived just in time for the start of Heiva which is an island wide, 3 week, celebration of traditional culture. That means plenty of dancing. The costumes worn by the dancers are all made of natural items. So they have to be made just before the competition.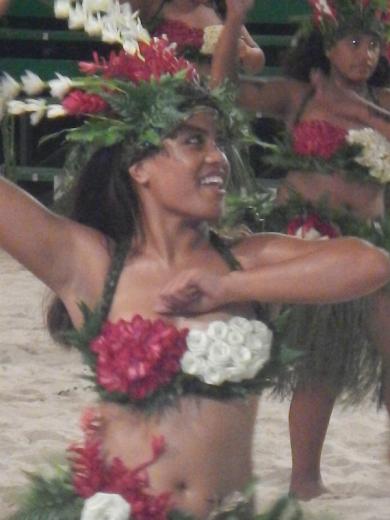 ---
2nd Jul 2015 Liward at anchor in Huahine
Here is a great picture of Liward in the foreground, from a flying drone that some other cruisers had. In the picture you can see the silhouette of the mountains on the island which look just like a sleeping lady and may be where the name Huahine came from. We spent time in Huahine last year and it is one of our favorites. About 6000 people live there and it is one of the more natural islands. And there is great surf very close to the boat at anchor. But this year the weather was not very good. We had as many cloudy/rainy days as sunny days. And Steve and Lili both got very sick with the grippe or flu. It took us over 2 weeks to recover. The other bad thing that happened was getting a surfboard stolen. We should not have left it on the deck while we were anchored right in front of town. But Huahine is still one of our favorites and we plan to stop back by in September.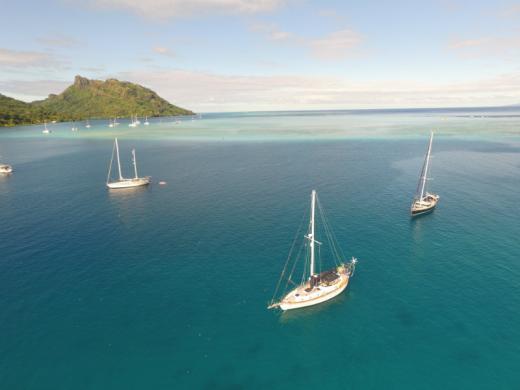 ---
3rd Jul 2015 Six Man Va
The Heiva includes lots of outrigger canoe paddling. The canoes are called Va'as and they have single man, three man, six man, and 12 man. The competition can cover a two hour course offshore in the ocean.
---
4th Jul 2015 Heiva Spear Throwing
Men and Women throw handmade spears at a coconut which is 60 feet in the air.
---
5th Jul 2015 Spear Throwing
Each village proudly wears their colors which are purple, orange, green, red and blue.
---
6th Jul 2015 Bulls Eye
It is amazing that they can even hit the coconut because its 60 feet in the air and moving with the wind. But they do really well!
---
7th Jul 2015 Starting Early
And they start training early!
---
8th Jul 2015 Heiva Singing
At night there is singing competition with 5 villages competing. We can't understand what they are saying but it is really beautiful. They stand and sing a couple of songs and then sit in the sand and sing a few more.
---
9th Jul 2015 Heiva Lagoon Fishing Contest
One day they have an offshore fishing contest and one day a lagoon fishing contest. Here you can see every kind of boat gathering for the lagoon fishing contest. The boats all leave the city dock at 8 am and stay out fishing all day until 4pm.
---
10th Jul 2015 Mayor weighing the fish
Here the mayor is weighing the "catch of the day". The winner of all the competitions receives a monetary reward.
---
11th Jul 2015 Heiva Dancing
Another night of more dancing. Before the dancing started, the dancers all brought gifts of fruit, coconut drinks and flower leis to the dignitaries.
---
12th Jul 2015 Heiva Dancing
The costumes really are amazing. The dancers are accompanied by the village's band made up of a variety of types of drums.
---
13th Jul 2015 Heiva Coprah Shucking
One of the days, the competition is Coprah. Coprah is the white coconut meat which is harvested, dried, bagged, put on a ship, sent to Tahiti, and processed into coconut oil. Many Polynesians make their living this way. For the festival, there were teams of three that start with 80 coconuts. A big axe is used to break 80 coconuts. What amazed us was that they were barefoot, swinging the axe. But they did have a safety officer from the fire department, who held the axe while it was not in use.
---
14th Jul 2015 Removing the Copra Nut Meat
Then the coconuts are broken apart and two men dig out the coconut meat. They use a burlap bag over their leg so as not to get injured with a slipping knife!
---
15th Jul 2015 Filling the Bag
Then the team fills a burlap bag with coprah, and runs with it to the judge!
---
16th Jul 2015 Traditional Kite Flying
We had front row seats from the boat to watch the homemade kite flying contest. The kite that reaches the highest altitude and stays up the longest wins!
---
17th Jul 2015 Running with 40 pounds of fruit
Men and Women compete in the fruit running. The men carry 80 pounds, the women 40 pounds, and they run barefoot about 1/2 mile.
---
18th Jul 2015 Steve and Frank Huahine Yacht Club
Steve got to play with an awesome local percussionist, a couple of times at the Huahine Yacht Club. Frank has played and recorded with the legendary Bobby Holcombe who wrote "One Particular Harbor" with Jimmy Buffett. The picture is a little dark but hopefully you can see the thatched roof and all the cool stuff on the walls. Locals and sailors came to enjoy!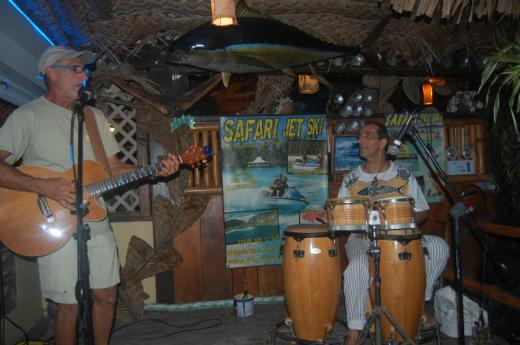 ---
19th Jul 2015 Sailing to Maupiti
We left Huahine under spinnaker sail and at times had speeds of 7 knots! Raiatea is only 25 miles away and we stopped there to see friends for 4 days. Then we sailed the 25 miles to Bora Bora to eat good food. We had a perfect weather window to sail to Maupiti so we took it, since we've never been there before. Maupiti is 31 miles west of Bora Bora and about 60 years behind, which is nice! But it only has one very narrow pass into the lagoon. So you have to pick the weather carefully. We had a day with 5 foot seas and light winds. As we entered the pass, we had waves breaking on the reef on either side. And a surfer caught a wave which was 8 foot high, had a great ride, kicked out about 60 feet off our starboard side and gave us a thumbs up welcome! Now that got our attention!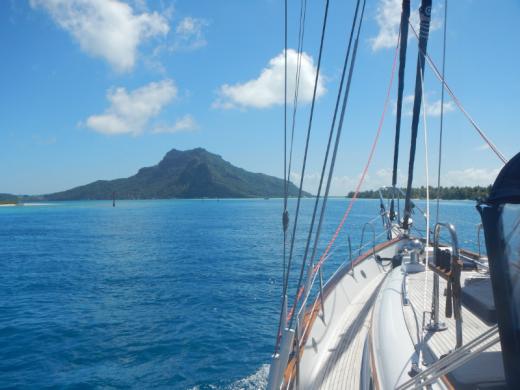 ---
20th Jul 2015 Maupiti Rainbow
Maupiti is an island with a 1200 foot mountain located in a lagoon with 5 palm tree islands or motus around the perimeter. Only about 1000 people live here. It is truly beautiful. There are manta rays that come into the lagoon every day and you can snorkel with them. But again the weather was not the best but we did get this rainbow!
---
21st Jul 2015 Maupiti Village and Hike
The village is lovely and the people extremely friendly. A ship comes in with supplies only once per month. So they grow a lot of fresh vegetables and fruit. We took a hike up to Mount Pahahere which you can see in the photo behind the church.
---
22nd Jul 2015 Maupiti Flowers
So we thought we'd show you some pictures of all the beautiful flowers and fruit that we see as we walk around the island.
---
23rd Jul 2015 Maupiti Flowers
---
24th Jul 2015 Maupiti Mangos
We have not bought any mangos as we just find them everywhere for free!
---
25th Jul 2015 Maupiti Noni
The noni has all kinds of medicinal qualities. They use it as a tea and ointment.
---
26th Jul 2015 Maupiti Purple Flowers
---
27th Jul 2015 Maupiti Red Flower
---
28th Jul 2015 Maupiti White Flowers
---
29th Jul 2015 Maupiti outer Motu islets
There were 5 motus to visit with white sand beaches and plenty of trees for hanging hammocks.
---
30th Jul 2015 Maupiti View from the Top - Mount Pahahere
We took the, sometimes, challenging hike up to the top of the mountain for a beautiful view point. Here you can see the entry pass with the two motus (islets) on either side.
---
31st Jul 2015 Maupiti West side
The colors of the lagoon were absolutely beautiful. On the west side there were areas that looked like small pools.
---
1st Aug 2015 Lili Climbing Up
At times the hike was a little challenging and we had to use ropes to climb up and down.
---
2nd Aug 2015 Liward in Maupiti Lagoon
We anchored in two different spots in Maupiti and here we are in front of the village. We stopped on our climb for a picnic lunch and enjoyed the view.
---
3rd Aug 2015 Steve climbing down
On the way down the mountain we got very lost!!! But Steve had his lighter and a knife so we figured we could build a fire and use the cell phone to call someone to come get us! We had to climb back up the mountain to find where we made a wrong turn. The whole hike took us 4 hours!
---
4th Aug 2015 Maupiti Jam
There is one restaurant in Maupiti and Steve arranged to play music. Lots of the locals came and also many of the sailors, it was the happening thing of the week! Some locals joined in and Steve became the sound man. His new sound equipment is really good, he had 5 active inputs, 3 microphones and 2 guitars. One local flipped over a trash can, grabbed a flip flop and a stick and Steve immediately put a microphone on it. The flip flop made a great bass drum sound! It was a great night!
---
5th Aug 2015 Bike Riding
We rented bikes and rode around the whole island in 2 hours.
---
6th Aug 2015 Picnic
We stopped at a curve in the road at the scenic view for a picnic. We can make a picnic anywhere!
---
7th Aug 2015 We love Maupiti
So we love Maupiti! It has become one of our favorites and we will come back. After 10 days in the beautiful lagoon we sailed back to Bora Bora which is where we sit now. But the weather is not the best and the wind has been blowing for days. Last night we saw 35 knots. When the wind dies we'll sail back to Huahine for a few weeks. We have a reservation in Tahiti at Marina Taina for October 1. We will leave Liward there again, and fly back to Florida on October 14 for 5 months! I've also uploaded a movie from the drone that was taken in Huahine. So if you are interested take a look under the movies tab.
Diary Movies
---