Liward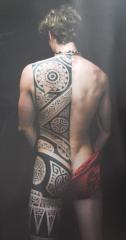 25th Mar 2016 - 12th Apr 2016
Back in Tahiti
After 5 nice months in Florida we flew back to Liward in mid March. She was sitting in Marina Taina, Tahiti right where we left her and looked good. We've spent 4 weeks doing some pretty big boat projects and now we are ready to go sailing. But the weather has been pretty bad so we are waiting. We have brand new sails that we want to try so we'll wait for a nice day. So here's an update showing a little bit of fun that we've had while doing boat projects. There is a saying that "Cruising is...Working on your boat in exotic places". Sure is true for these four weeks!
Diary Photos
25th Mar 2016 Back in Tahiti
---
26th Mar 2016 Back with Tahitian Friends
Some of our big boat projects have been: new membranes in the water maker, all new rigging up the mast, new sails, varnish, and cleaning the teak decks. We have Heifara helping us so that is a huge help. We took off one afternoon to visit the near-by Marae Arahurahu and see old friends.
---
27th Mar 2016 Arahurahu Marae
This is one of the many Marae which is a sacred site where the Polynesian royals lived and religious ceremonies were held. It just gives a feel good when walking around the grounds
---
28th Mar 2016 Marae Watchman
This little guy is watching over the ceremonial platform.
---
29th Mar 2016 Tattoo Exposition
The annual Tatoo exposition was happening right down the road. So we took a look. Tattoo's were actually invented by the Polynesians. There were about 40 tattoo artists at the exposition and there were competitions each day to award the best tattoo. The artists demonstrated the traditional method which was done with sharp blades made of shell. The blades were dipped into the ink and then tapped with a long stick to impregnate the ink into the skin.
---
30th Mar 2016 Blade Placing the Ink
Here is a close up of the traditional method with two people holding the leg of the person getting the tattoo and the artist tapping the shell blade. All done with no anesthesia!
---
31st Mar 2016 Modern Tattoo Tools
You could also see artists using the modern method with what looked like dremel tools. We left thinking that it was similar to watching someone get their teeth drilled. And we won't be getting a tattoo anytime soon.
---
1st Apr 2016 Fire Walking Pit
One night we went to watch the fire walking. A large pit is dug and huge fire built in it. Then the stones are placed across the top of the fire.
---
2nd Apr 2016 Traditional Dancing
First there was some traditional dancing, which was loud and aggressive.
---
3rd Apr 2016 Fire Walking Experts
Then experienced elders got ready to walk the stones with fire coming up between!
---
5th Apr 2016 Rear View
Here's a back view of the elders showing the leader's tattoos. We understand that he is in charge of building the fire and is close to 80 years old!
---
6th Apr 2016 Beat of Drums
The drums starting beating.
---
7th Apr 2016 Lili Walks on Fire
And then Lili decided to walk on the stones. The elders made a speech before the walk but we couldn't understand what they were saying. Later we were told that if you had a pure spirit and only look forward you won't get burned. When a friend yelled my name to get a picture, I looked up and almost fell! Luckily the tattoo'd man was there to help.
---
8th Apr 2016 Polynesian Weekend
On the weekends the local Polynesians are all out on the water. On a typical weekend we'll see a six man va'a canoe race go right past the dock. They are always paddling something.
---
9th Apr 2016 Polynesian Weekend
Here are some of the typical fishing boats, not fishing, but just having a good time.
---
10th Apr 2016 Jam on the Dock
Steve was lucky to meet some local Polynesian musicians who came to the dock for a jam. They brought drums, ukelele and guitar. We heard some great music from artists like Bobby Holcomb and Angelo.
---
11th Apr 2016 Les 3 Cascades
It rained a lot this cyclone season and apparently there was damage done in some parts of the island. We went to visit one of our favorite water fall sites but found that the bridge access had been washed away so we just enjoyed it from a distance.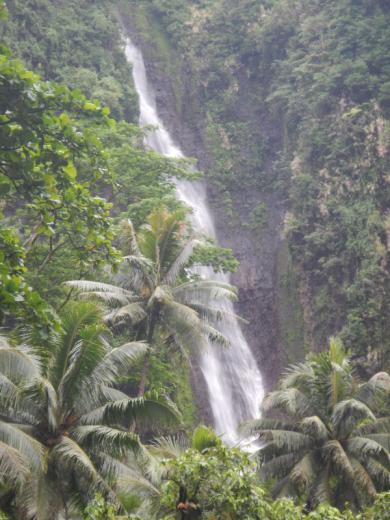 ---
12th Apr 2016 After the rain comes flowers
Now the boat is completely ready. We got lots of small projects finished also. Like fixing the anchor stopper, the stove gimbal, the gooseneck fitting, the water system filters, waxing the hull, changing the spreader lite and putting in a new high gain wifi antenna. With the new antenna, updating the website should be easier when we find wifi hotspots. The project list was long and we think this may be the first time ever that we have marked everything off the list. But now it is raining and the weather is not so good. So we will wait for a nice day to sail out of the marina. We want to try the new sails and we'll start this cruising season with a quick sail to Moorea which is only 15 miles away.
---