Liward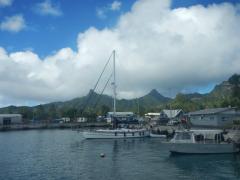 13th Apr 2016 - 26th May 2016
Rarotonga and Back-1200 miles to get a stamp
We've done a lot of sailing so it's time for an update. In April, May, and June we visited some of our favorite islands in French Polynesia: Moorea, Huahine, Bora Bora and Raiatea! Mid-way thru June we sailed 540 nautical miles to the island of Rarotonga, Cook Islands. Our time limit in Polynesia was up on the boat so we had to sail 5 days to the closest foreign country to get a stamp on our papers. Just so we could sail back to French Polynesia to stay another 2-3 years! It turned out that we loved Rarotonga so we spent 12 days. We arrived back in Bora on July 4th, just in time to see some of the Heiva competition traditional dancing! So there are lots of pictures in this update. Hope you enjoy!
Diary Photos
13th Apr 2016 Liward in Rarotonga
---
13th Apr 2016 Moorea
Moorea has some great calm anchorages and beautiful scenery. A good place to spend a few days checking out all of Liward's systems and getting in the water for some paddle-boarding and surfing.
---
13th Apr 2016 Underwater Tiki's
The underwater tiki's are one of our favorite snorkel spots
---
13th Apr 2016 Moorea Stingrays
The tourists feed the stingrays so they come swimming over whenever they hear an outboard engine.
---
13th Apr 2016 Moorea Coral
Nice coral!
---
13th Apr 2016 Our Own.Polynesian tiki
Moorea also has one of our favorite artisan shops. We could not resist this new wooden tiki with tattoos. The artist is well known for his tattooing and now does carvings as well. So we'll carry this guy back to the USA.
---
13th Apr 2016 Huahine
We had a nice overnight sail to Huahine. We stayed three weeks and had some good weather as well as some bad weather. Here's a picture of the clouds coming over the mountains. We thought we'd show you that the weather is not always beautiful! While we were in Huahine Steve had a surfing mishap and ended up with some coral cuts on his arm. So no water sports for 10 days. We call the scars, his Polynesian tattoo!
---
13th Apr 2016 Vanilla Picking
We have a friend in Huahine who farms vanilla. Vanilla can bring a very nice price. So we visited his farm and helped him pick vanilla one morning. Probably picked over 100 beans. But that is just the minor part of the process. They have to be dried in the sun for at least a month. Overall the growing, pollenating, picking, and drying all take 9 months. So it is very labor intensive. We'll pick up our dried vanilla beans when we visit Huahine again in August!
---
13th Apr 2016 Bora Bora
The islands in the "Leewards" are just a day-sail apart. Bora still impresses us when we sail in. And the food is just as good as we remember!
---
13th Apr 2016 Raiatea Friday Afternoon
We had to sail back to Raiatea to get our Residence Cards stamped for their annual renewal. Raiatea also has a very good local market complete with music on a Friday. We really liked the guy with the sunglasses, playing the upside down garbage can bass!
---
13th Apr 2016 Clearing Out of French Polynesia
In Raiatea, we officially checked out of French Polynesia with the Gendarme and had to mail our papers to the main customs office in Tahiti. So we are ready to sail to the closest foreign country which is Rarotonga, 540 nautical miles away, just to get a stamp on a piece of paper!
---
13th Apr 2016 A Good Sign
As we got ready to leave the next morning, a rainbow appeared so we thought that was a good sign.
---
13th Apr 2016 Passage to Rarotonga
We had a great sail, never getting more than ½ mile off the "rhumb" line. That's the straight line charted between two points. We had good wind the whole way and only one day of rain. Along the way we saw three whales that came very close to the boat and then accelerated in front of us, like we were in their lane! No other boats, ships or planes during the whole passage. Just us and a few birds!
---
13th Apr 2016 Arrival Rarotonga Cook Islands
We ended up taking in sail so we could slow down on the last day at sea because we did not want to arrive at night. So after 4 days and 540 miles we arrived in Rarotonga, Cook Islands. Procedures require that we email the Cook Islands in advance. So they knew we were coming, it's not like they get many visiting boats!
---
13th Apr 2016 Liward in Avatiu
In all the years that we have owned Liward, we have never med-moored. But this is the only option in this harbor. So we entered the small harbor, turned around, dropped the anchor and back up to a cement wall where someone could take two lines off the stern. Then we took in some anchor chain and tightened the stern lines and we were set. The boat is about 15 feet off the cement wall and we had to use the dingy to ferry us back and forth to the wall. Then bio-security, health, and customs officials arrived to inspect the boat and clear us in.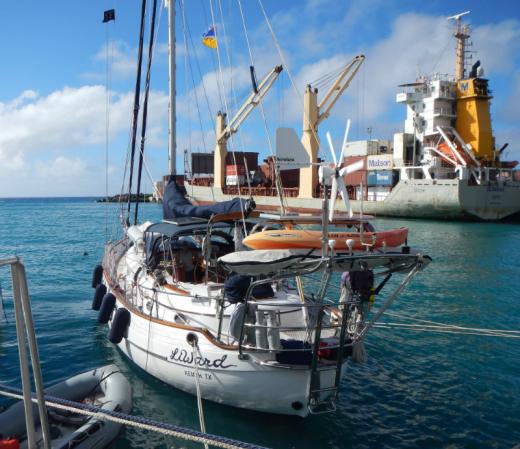 ---
14th Apr 2016 Aerial View of Rarotonga
Here's an aerial photo to show you the volcanic Rarotonga. Rarotonga is part of the Cook Islands which includes 15 small islands spread over 2 million square kilometers of ocean! The whole land area is only 250 sq km. Avatiu, the Rarotonga harbor, is on the upper right in the photo. Rarotonga has a lagoon but there is no entrance to it and it is very shallow so no boats can anchor in the lagoon. Rarotonga is only 32 kilometers around and has about 12, 000 people. The Cook Islands are self-governing in free association with New Zealand. All the Cook Islanders have New Zealand passports.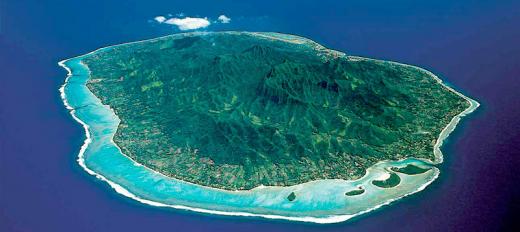 ---
15th Apr 2016 Kia Orana
"Kia Orana" means "Hello may you have a long life"! So we felt very welcome. In Rarotonga, they drive on the left side of the road. The US dollar is very strong compared to the NZ$ so we felt like everything was inexpensive. Especially after experiencing French Polynesia! Scooters were $11 per day so we rented by the week! Only Steve had to get a Cook Island driver's license which included a written test and a driving test. Apparently they've had problems with tourists on scooters! Or maybe it's a significant money-maker for the police department! This is a hot spot for New Zealand tourists and they sure know how to have a good time. All the locals were super friendly and even though they depend on tourism for their economy, we didn't feel like their "bread and butter"!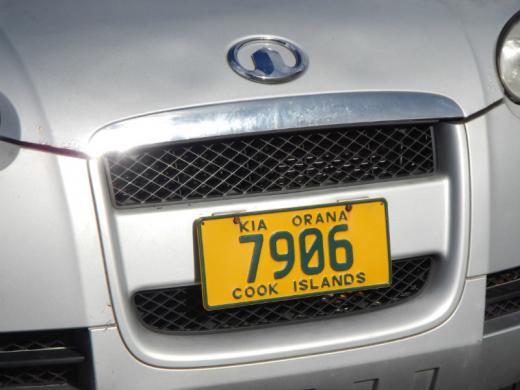 ---
16th Apr 2016 Punanga Nui Market
We arrived on Friday and Saturday is the big outdoor market called Punanga Nui! It was a very short walk from the boat. They had all kinds of booths set up with produce, pastries, coffee, handicrafts, and ukuleles.
---
17th Apr 2016 Internet Office
We found the internet office and got hooked up. Notice the green crown on the salesperson. We could get inexpensive, fast wi-fi on the boat. Of course our new high-gain antenna Steve installed this year helps!
---
18th Apr 2016 Fresh Produce
The Cook Islanders emphasis local, organic and traditionally grown. We were amazed to see so much great looking produce at the market. This has to be the best market that we have seen in our travels!
---
19th Apr 2016 Young Girls Dancing
Market day also included dancing demonstrations. The locals are making very strong attempts to teach the young people their traditional culture.
---
20th Apr 2016 More Dancing
Their costumes were all made of natural fibers and items like seashells and berries.
---
21st Apr 2016 Drum Band
The wooden drums were very similar to the ones we see in French Polynesia but they played them differently.
---
22nd Apr 2016 First Bar
We started exploring the island on our scooter and the first stop was a beachfront bar with a perfect view of the sunset. Rarotonga has a tourist "buzz" with plenty of bars and restaurants. It kind of reminded us of a south Pacific "Key West".
---
23rd Apr 2016 Wilson
And we found Wilson, after all those years of being "ship-wrecked"!
---
24th Apr 2016 Best Burger in Rarotonga
We read the sign and stopped in. It truly was a great burger.
---
25th Apr 2016 Funny Menu
Note the item at the bottom of the burger. The Cannibal!!
---
26th Apr 2016 Cook Island Chief
Rarotonga still has chiefs that have a large influence in their tribal community. We understand that they have 6 tribes on the island. We had heard that the Cook Islanders are known for their traditional dancing so we wanted to see a show. We picked one called "Highland Paradise." It was located high in the mountain at the old Tinomana village and sacred marae site. All of the performers were descendants of the Tinomana Ariki(chief).
---
27th Apr 2016 Missionary Influence
We were not disappointed. The dancing was incredible. But they also shared with us the history and culture, and since they all speak English, we could understand! This girl is demonstrating the dancing after the missionaries arrived in the 1800's. The girls were made to wear their grass skirts above their belly buttons and black and white shorts underneath. They also changed many of the dance moves to be less sensual.
---
28th Apr 2016 Men Dancing
The missionaries made the men wear long black pants under their grass skirts. Luckily, when the Rarotonga airport opened to tourists in the 1970's, all the chiefs had a big meeting and decided that the dancing should go back to the traditional, pre-missionary way. Good thing because the Cook Islanders are awesome dancers!
---
29th Apr 2016 Singing
The Cook islanders also have beautiful voices and this young lady was signing a song to honor women. Many of the island chiefs now are women.
---
30th Apr 2016 Steve is the Ragatira!
At the dance show, Steve got picked to be the Ragatira or "sub-chief" of our dinner tribe! And you know he hates to be picked. So he had to lead our group through a sacred offering, make sure we got on the right bus, and dance with the girls!
---
1st May 2016 Cross Island Hike
We decided to take the cross island hike which took us 4 hours and crossed from the northern side of the island to the south coast, as well as up and over the mountain in the middle!
---
2nd May 2016 Te Rua Manga
The hike was via the needle which is called Te Rua Manga and is 413 meters high.
---
3rd May 2016 One Muddy Hike
Of course we got caught in the rain. Actually most of the hike was in the rain. Luckily we had thin disposable ponchos in our backpacks. When we finally got to the needle, we found a chicken and a hen! How did they get up there!
---
4th May 2016 Bad Shoes
About halfway across the island one of the soles of Lili's Merrell hiking shoes fell off. And about 20 steps later, the sole on the other shoe fell off. So I was forced to finish the hike with no soles! It was pretty muddy and challenging. At times we had to hold onto ropes and branches to climb rock areas. Had to take a picture with my soles off my shoes!
---
5th May 2016 Wigmore's Waterfall
At the end of the hike there was a little waterfall. Good thing because we were quite a mess!
---
6th May 2016 Avatiu Harbor
Luckily the Harbor stayed pretty calm for most of the time. Except for two days when the boat was moving around so much we thought we were at sea. We could see the Pacific Ocean from Liward and it was only about 300 feet off our bow. So if there were any seas, we saw them. But we were lucky enough to be able to stay in the harbor for 12 days. If the weather had gotten too bad, we would have had to leave …….in a hurry! Here's the two other boats that were in the harbor with us for a few days. The freighter arrives from New Zealand once a month with all the supplies for the 12, 000 people of the Cook Islands. Then the sailing freighter transports supplies and people to the outer islands.
---
7th May 2016 Gas Station / Mini Mart
The gas stations were full serve and you could pick up some fresh fruit or veggies. It almost felt like going back in time.
---
8th May 2016 Great Fishing
The fishing fleet was in a little side section of the harbor with a breakwater so they stayed calm. We saw the boats come in everyday and went over to see the catch! Rarotonga is also a big sport-fishing location. After-all, it is out in the middle of the Pacific Ocean, far from anywhere!
---
9th May 2016 Lost!
On one of our rides around the island (about an hour), we saw this sea lion. At first we thought we were seeing things! The locals said that they have never seen sea lions, this little guy was lost and tired!
---
10th May 2016 Bus Stop
Rarotonga has two busses. One travels clockwise around the island and the other travels counter clockwise. So you could catch a bus every 30 minutes and always get to your destination!
---
11th May 2016 Evacuation
These signs were posted where ever there was a road into the mountain.
---
12th May 2016 Rarotonga Tiki
We found that the carvings in Rarotonga were not as detailed as the ones from the Marquesas in French Polynesia. But the big difference that we noticed was that the Cook Island tiki's were anatomically correct!
---
13th May 2016 Typical Local Menu
Rarotonga had many unique local dishes. One was taro which was like creamed spinach. Everything was relatively inexpensive. Alcohol was about half price of what it is in French Polynesia, so we stocked up. One thing that was really funny was that anytime you asked for ketchup, you had to pay for it. At this restaurant it was 50 cents. We paid up to $2 for ketchup at some places. Who eats French fries without Ketchup! So everything is very inexpensive, except ketchup, which they call tomato sauce.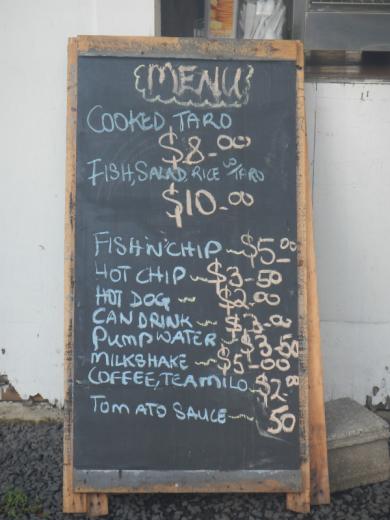 ---
14th May 2016 Matutu Micro Brewery
Two locals decided to start a micro-brewery in Rarotonga so we took a tour. The name of the beer is Matutu which means "strong" and they have three different brews. But they only make enough for the local tourist consumption. No exporting. They don't use any ingredients for preservatives. In fact their t-shirts say "No Crap Added"! The owners said that they first had to get permission from the chiefs of the island and then they had to go before the religious council. They got approval and now have a successful micro beer business.
---
15th May 2016 Close to Home
One thing we noticed about Rarotonga is that families bury their loved ones in their front yard. It was very common and we don't know what happens if the family moves!
---
16th May 2016 Flowers
The island is very lush and green with flowers growing everywhere. This was a hibiscus with a color combination we had not seen before.
---
17th May 2016 Good Coffee
Steve loved the local grown coffee and went for an afternoon cappuccino at the Reef Coffee Stand.
---
18th May 2016 We Loved Rarotonga!
So we loved Rarotonga. We only expected to stay for a couple of days and we ended up staying 12 days and had a great time. But we've been tempting the weather so it is time to leave.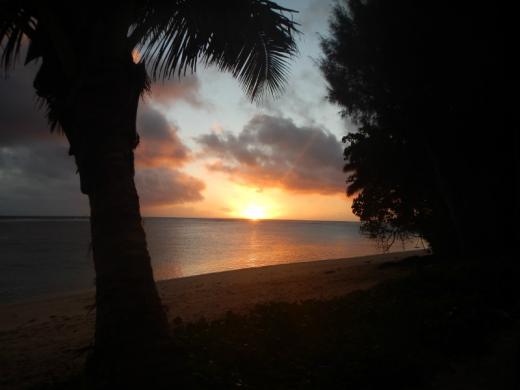 ---
19th May 2016 Sail Back to Bora Bora
We had a decent sail back to Bora Bora. We expected this to be a hard sail because we would be trying to sail east in the southeast trade winds. We knew the weather predicted one day of light winds and we would have to motor but we had 3 days of absolutely no wind. But also absolutely no seas so it was pretty easy motoring. We ended up sailing 680 miles to go 540 miles and it took us 5 days. When we got about 50 miles from Bora Bora we changed our minds and changed course for Maupiti. That is one of our favorite islands and we thought it would be great to chill out for a few days there. But as we approached was talked to another boat that just exited the pass and saw 5 knot currents and waves breaking across the pass. So we changed plans again and headed back towards Bora Bora. This meant we had to enter the Bora Bora pass at night! We found a mooring and congratulated ourselves that we had successfully sailed 1200 miles to get a stamp!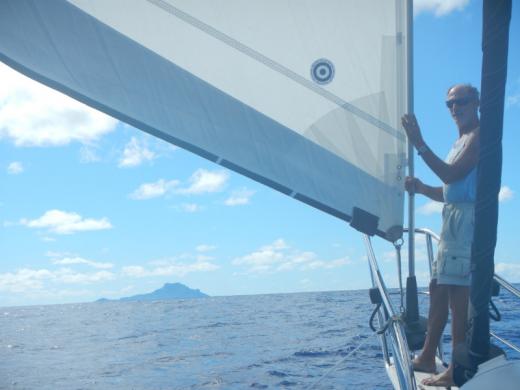 ---
20th May 2016 Heiva Dancing
Back in Bora Bora we arrived just in time to see the Heiva competition dancing. The dance troupes have probably over 50 men and women dancers. Then the drum band probably has 25-30 members. So it is a big deal.
---
21st May 2016 Heiva Men Dancing
We were really impressed with the dancing. Bora Bora is a big tourist destination so the locals have regular scheduled jobs. But somehow they find the time to develop and practice all the dance moves and make the intricate natural costumes.
---
23rd May 2016 Heiva Couple's Dancing Blue Yellow Team
A few days later was the Couples Dancing competition. It was just like "Dancing with the Stars" Polynesian style. The stage was outside in the sand on the waterfront.
---
24th May 2016 Couples Dancing Orange White Team
Each couple danced one number and they were accompanied by their large drum band.
---
25th May 2016 Couples Dancing Green Team
Each team represented a village on the island and wore the colors of that village. They seemed to marry traditional moves with more modern ones. In fact some of the dance was pretty risqué.
---
26th May 2016 Couples Dancing Red Team
So we are enjoying ourselves back in the familiarity of Bora Bora. We've done some snorkeling, hiking, eating, meeting new friends and seeing old ones. We'll stay here for a few more days and then head off to another one of our favorite islands. We have no firm plans until September when we take Liward back to the marina in Tahiti and we fly back to the USA!
---