Liward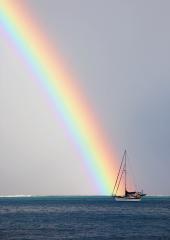 1st Aug 2016 - 20th Apr 2017
April 2017 - Where Are We? Where Have We Been? High and Dry!!!
This update covers a lot of ground, from late July 2016 to April 2017. We apologize for being so behind! We keep up the website to share our experiences with friends and family, but also as a reminder to ourselves. We like to organize our best pictures and write comments to document what we've been up to. We'll probably really enjoy reading this website when we are older!!! So here goes an attempt to summarize 6 months. In July 2016 we were in the islands of French Polynesia. September found us returning to Marina Taina in Tahiti to park Liward. October 1, we flew back to the USA via Hawaii spending 2 weeks on the islands of Oahu and Maui. November 2016 thru March 2017 we spent enjoying our condo in Jupiter Florida. And March we are back aboard Liward in Tahiti! So this will be a pretty long update with lots of pictures.
Diary Photos
1st Aug 2016 Liward at the End of a Bora Bora Rainbow
In July 2016 we spent a couple of weeks in Bora Bora. It is a beautiful setting, although much more tourist oriented than the other islands. Sometimes we really think we are at the end of the rainbow with 6 months in Florida and 6 months in paradise!
---
2nd Aug 2016 Bora Paddle Boarding
Inside the lagoon of Bora Bora there is a small island called Motu Toopua. It is away from the luxury hotels and one of our favorite anchorages. Nice area to paddle board also.
---
3rd Aug 2016 Bora Pinnacle
We never grow tired of looking at the beautiful views of Bora Bora's once-volcanic Mount Otemanu. This is the picture you always see in picture postcards.
---
4th Aug 2016 A day at the beach
While Bora is the place for luxury hotels, celebrities and tourists, we always manage to find the out-of-the-way "real" spots. We met Elle at his small pension and became great friends. He has 2 cabins on a remote islet called Blue Heaven. We think its well named.
---
5th Aug 2016 Bora Jam
Elle is a guitar player so we organized a jam and invited some other cruisers.
---
6th Aug 2016 Adopted Puppy
And there's the cutest dog that adopted Lili.
---
7th Aug 2016 Hey Mr. Postman
We rented bikes one day and rode all the way around Bora. The funniest thing we saw was this mailbox at the home of a local family. Note the arrow to open the door! Our bike ride ended abruptly when Lili ran off the road and crashed. Two locals stopped to help and put the bikes in the back of their truck to return. She had some scrapes and bruises and learned not to take your eyes off a road with pot-holes and high edge!
---
8th Aug 2016 Tableside Show in Tahaa
After Bora we sailed over to the island of Tahaa. Tahaa has about 5000 people, very few cars, and is known as the "vanilla" island. We were lucky to have dinner at an outdoor restaurant owned by a lovely family. All the family members provide the Polynesian fire and traditional dancing. We had "ring-side" seat and moved back a bit with the flying fire!!!
---
9th Aug 2016 Fire Dancing in Tahaa
We checked ahead of time and learned that the dinner would be fresh fish. What we didn't realized was that it was raw fresh fish! We were served at least 8 different types with one serving of white rice. Steve doesn't eat raw fish so he enjoyed a dinner of expensive white rice!!!
---
10th Aug 2016 Dancing Daughter
The daughter provided some traditional dancing.
---
11th Aug 2016 Family Band
And all the brothers and uncles made up the band. Mother held the baby alongside.
---
12th Aug 2016 Liward in Huahine with the Sleeping Lady
In August, we sailed over to our favorite island of Huahine. The island's name comes from the silhouette made by the mountains which resembles a pregnant woman. Can you see it behind Liward? This island is very natural, laid back and has lovely people. And there's good surf. In fact it's one of the few places that you can see the surf-break from the cockpit of the boat.
---
13th Aug 2016 Playing at the Huanhine Yacht Club
The Huahine Yacht Club isn't really a yacht club, just a waterfront restaurant with a dingy dock. But it's the perfect place to play music. Steve enjoys playing with the locals here.
---
14th Aug 2016 Banyan Tree at Sacred Marae
In Huahine, we took a short hike to visit a sacred Marae. Supposedly, many Marae's were built close to banyan trees for spiritual reasons. This banyan looks like it's taking over the whole sacred site.
---
15th Aug 2016 Beach Combing
Huahine has some lovely remote anchorages
---
16th Aug 2016 Liward at a Nice Anchorage in Huahine
We had this anchorage all to ourselves and took a hike up the mountain to get a picture.
---
17th Aug 2016 Sike's Beach
The beach is beautiful and a local man paddles out in his va'a every day to rake it.
---
18th Aug 2016 Local Flowers
We had some friends out for happy hour and were surprised to receive a gift of flowers. The locals really like to wear flower crowns for every day, special occasions, and church!
---
19th Aug 2016 Pet Clownfish in Huahine
We have several pet clown fish just a short paddle from the boat.
---
20th Aug 2016 Huahine Sacred Marae
Another hike takes us to a Marae on the side of the mountain where we can see the islets that ring the lagoon on the east side of Huahine. This is the location where the famous Bobby Holcomb, wrote the Polynesian words to Jimmy Buffett's 'One Particular Harbor". The words are: Ia ora te natura E mea arofa teie ao nei. Which means:"Nature lives. Have pity for the Earth (Love the Earth)". You can feel that this is a very spiritual place.
---
21st Aug 2016 Huahine Ladies
Two lovely sisters, Ingrid and Maramiti wear crowns made of the vanilla flower. This is very unusual because the flower is hand pollenated to grow the vanilla bean, which takes a total of 8 months. But this day it rained so all the vanilla flowers were going to be lost. So the sisters made crowns. Kind of the Polynesian version of "when life give you lemons, make lemonade!"
---
1st Sep 2016 Sailing by Moorea
September meant it was time to sail back to Tahiti to put Liward in the marina. We sailed by Moorea but did not get to stop. We never grow tired of seeing the beauty of Moorea's mountains.
---
2nd Sep 2016 Culture Festival Dancers from Marquesas
We got back to Tahiti just in time for the Polynesian Cultural Festival. This was the first time that Polynesians, from all over the Pacific, were invited to travel to Tahiti to share dancing, language, food and traditions. Participants came from Easter Island, New Zealand, and Hawaii. It was very interesting to see the differences in Polynesian cultures that are separated by thousands of miles of ocean. As part of the festival we got to see dancers from the Marquesas. This dancing is more aggressive and loud. And tattoos are a very big part of Marquesan culture. On stage, in front of the dancers, was a demonstration of traditional tattooing by taping a sharp blade into the skin.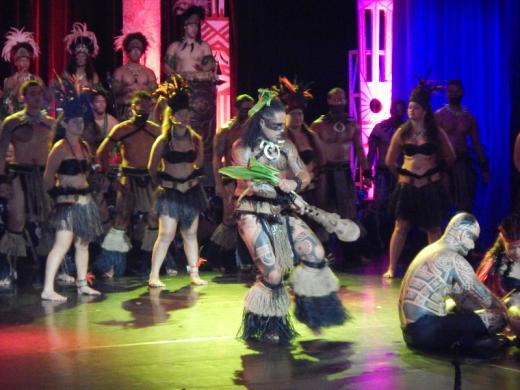 ---
3rd Sep 2016 Culture Festival Dancers from Easter Island
We also got to see dancers from Easter Island. We even got confused about the name of this island. In French, Isle de Pacque; In Spanish, Isla de Pascua; In Polynesian, Rapa Nui; and in English, Easter Island. The costumes were very different than costumes that we have seen before. They were made mostly with bird feathers. The dancing was incredible, very suggestive and energetic.
---
17th Sep 2016 Steve's Birthday Dock Party
We celebrated Steve's birthday with a party on the dock at Marina Taina. A cruiser friend even made Steve a chocolate cake!!! We tried to light the candle in the wind and put a cup over it to block the wind. Yes, it caught on fire so Steve blew the candle out quickly!
---
18th Sep 2016 Keanu
And that's where we met Keanu. He was fresh out of the wáter and asked if he could play Steve's guitar. Of course, and we had a treat. Keanu sings in perfect english all the old classic soul songs like Marvin Gaye and Eric Clapton. He was singing "Stand by Me" when he stopped and said. Stand By…..his wet towel was falling off and he didn't have anything on underneath!
---
27th Sep 2016 Lotus Restaurant
For our 36th anniversary we had dinner at an over-water restaurant called the Lotus! Lovely!
---
28th Sep 2016 Our 36th Anniversary
It is hard to believe that 36 years have gone by. And 28 of those were living on a boat so we should get extra credit.
---
1st Oct 2016 On to Hawaii - Aloha!
After putting Liward to bed and arranging for her to be cared for while we were away, we flew back to Florida via Hawaii for a two week visit. We spent a week in Oahu and and week in Maui. The flight was over-night and once we checked in we headed straight to the bar. Aloha!
---
2nd Oct 2016 Dukes on Sunday
We picked our hotel on Waikiki Beach because it was the location of Duke's.
---
3rd Oct 2016 Henry Kapona
We arrived on Sunday. Perfect timing to hear Henry Kapono sing "Duke's on Sunday". You may have heard the Jimmy Buffett version.
---
4th Oct 2016 Pearl Harbor
We have never visited Hawaii so we were very excited to see Pearl Harbor.
---
5th Oct 2016 Pearl Harbor - Memorial Wall
Lili's father was at Pearl Harbor on December 7, 1941. His ship was in for repairs, his plane was parked on the runway, and he was staying in the baracks. After the attack he ran to his plane which was completely destroyed by fire. He went on to serve in the Pacific as a carrier based dive bomber pilot for the Navy.
---
6th Oct 2016 USS Arizona
The Arizona is leaking small amounts of oil which they say is the tears of the héroes still resting there.
---
7th Oct 2016 Emotional Day
It was an emotional day.
---
8th Oct 2016 Duke Kahanamoku
Since we were flying back to Florida, Steve did not bring a surfboard with him. So he rented a Donald Takiyama and got this picture with the Duke's statue.
---
9th Oct 2016 Lili Surfing Waikiki
And Lili even did a little surfing on Waikiki with Diamond Head in the background.
---
10th Oct 2016 Bunker Beach
After a couple of days in Waikiki, we drove up to the Northshore for a few days. It's a whole different world, outside of the city! We took a walk on the beach and found this old WWII bunker.
---
11th Oct 2016 Road to Hana Waterfall 1
Then we flew to Maui for a week and drove the Road to Hana. This is a 64 mile road along the east coast of Maui. There are 617 hairpin curves and 59 one-lane bridges. And lot's of beautiful waterfalls.
---
12th Oct 2016 Road to Hana Waterfall 7
Some say the directions for driving the Road to Hana, is to turn left, turn right and repeat 200 times! We love waterfalls and there were plenty to chose from. At first we stopped at every one and then realized it would take us all day to go 64 miles!
---
13th Oct 2016 Road to Hana Waterfall 16
More waterfalls
---
14th Oct 2016 Road to Hana Waterfall 22
And more waterfalls
---
15th Oct 2016 Honolua Bay 1
And now for a few words about the surf in Hawaii. We visited the famous spots and watched the local surfers do their stuff. Here's Honolua Bay on Maui. This is the location of the Women's Billabong Pro.
---
16th Oct 2016 Banzai Pipeline
Banzai Pipeline located on the Northshore of Oahu. The pipeline is considered one of the most dangerous waves. More people have died or been seriously injured at Pipeline than at any other surf spot.
---
17th Oct 2016 Waimea Bay
Waimea Bay is another big wave spot on Oahu's north shore. It is the subject of the Jan and Dean song "Ride the Wild Surf"
---
18th Oct 2016 Hawaiian Slack Key Show
We were lucky enough to hear about George Kahumoku Jr's SLACK KEY SHOW with the Masters of Hawaiian Music and managed to get tickets. Guest performers were Da Ukulele Boyz Peter deAquino and Garrett Probst, Sterling Seaton, Dennis Kamakahi, Hawaii's famous songwriter and Slack Key Guitar master; legendary Richard Ho'opi'i, and Kauai lap steel guitarist, Ken Emerson. It was an awesome show and we are in the third row!
---
19th Oct 2016 Maui Lava Flows
Maui's last lava flows were in the 1700's and flowed from the Haleakala volcano down to the ocean shore. Here's the field of lava rocks left when the flow cooled.
---
20th Oct 2016 Haleakala 10, 000 feet
We went to the top of the Haleakala volcano at 10, 000 feet. We think this may be the highest that we have ever been! It was cold up there and we put on every piece of clothing we had.
---
20th Oct 2016 Haleakala Volcano Crater
Haleakala volcano means "House of the Sun" and makes up 75% of the island of Maui.
---
22nd Oct 2016 Is is Earth or Mars?
Haleakala's crater looks like something from another planet.
---
23rd Oct 2016 Fall on your Sword
We found the rare plant called SIlversword which is fragile and lives only upon the slopes of Haleakalā.
---
24th Oct 2016 Hawaii's Nene
And we met the Nene bird. These birds are related to the Canadian goose but they don't fly. They are only found in the islands of Hawaii and currently only about 2500 exist. They don't seem to be afraid of humans and in fact you have to be careful not to hit them while they stand in the middle of the road!
---
25th Oct 2016 Back in Jupiter, Florida
We said good-bye to Hawaii and flew back to our condo in Jupiter Fl. We are lucky to have a view of the lighthouse out our front door and the Intracoastal waterway from our living room.
---
26th Oct 2016 Holidays in Florida
So what do we do in Jupiter since we don't have a boat there? Well, we take care of all the practical stuff like doctors, dentists, business, and gathering parts for Liward. And we enjoy ourselves with paddle boarding, beaching, surfing, and bike riding. Mostly we just enjoy easy living where everything is convenient and connecting with friends and family!
---
27th Oct 2016 Pelican Park Tiki Party
Steve has a band that he plays with and we host a big party at our condo's tiki park where they play.
---
1st Nov 2016 Pickle Ball
Lili has taken up the sport of pickleball! It's a new game similar to tennis and ping pong. The court is smaller than a tennis court, the paddles are solid and the ball is a whiffle! Suuposedly, the name came from the inventor's dog named Pickle that would fetch the ball on command! Lots of fun and very social.
---
2nd Nov 2016 Stacey and Steve
In Florida, Steve played several gigs with his partner Stacey. They do songs like Linda Ronstadt, Tracey Chapman, Texas musicians and of course some Jimmy Buffett.
---
15th Mar 2017 Back in Tahiti
In March 2017, we flew back to Liward in Tahiti. Very quickly we made a visit to our favorite archeological site. Marae Arahurahu belonged to the local king called arii, and served as a central gathering place of the whole small "nation" of this valley. We always just "feel good" when visiting this place.
---
16th Mar 2017 ETO
We were also very fortunate to go to a small concert with a new Tahitian musician named ETO. He has some beautiful Polynesian songs that he has written and an incredible ukulele player in his band. You can find his music on itunes if you search for "ETO Natura". One of our favorite songs in the title track, Natura. It just makes you feel happy!
---
17th Mar 2017 Tahiti Flowers
We've been in French Polynesia for over 3 years now and you'd think we'd seen all the types of flowers. But here's one that we have never seen before! Very unusual looking! A flower comes out of each section of the pod.
---
18th Mar 2017 Keanu and Steve at Papara
Steve has reunited with Keanu and had a gig one Sunday afternoon.
---
20th Mar 2017 Polynesian Sunset
So we are back to enjoying Polynesian sunsets
---
11th Apr 2017 Liward High and Dry
But wait…..first we have a few projects to get done on Liward before we can go sailing. We have fixed a main engine fuel prime problem, repaired our autopilot so it doesn't stick on(scarey!), repaired the sails, changed some rigging. As we post this, we are hauled out, high and dry, at a boatyard in Papeete, so we can paint new anti-fouling on the bottom. Things are going well and we hope to "splash" on Monday. Then it's off to Moorea to be sure that everything is working and then we plan to sail to the Tuamotu islands for a few months! Hopefully it will be Bon Voyage soon!!!!
---