Thiswilldous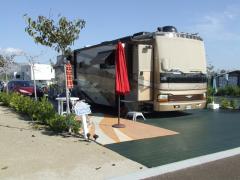 18th Sep 2014
We Finally Arrived.
Well we finally arrived at Camping Marjal at 1730 (Spanish time) on Thursday 19th but only thanks to our son Ben we would never have made it.
At 02.00 am on Tuesday 16th Sept and minuets and only a few hundred yards after leaving what had been our 'home' location for the past year a major catastrophe occurred whereby BOTH the nearside wheels of our car trailer came off thanks to yours truly for not tightening the wheel nuts after their removal a day or two previous.
The location of this event was an unlit B class country road. A phone call to Ben had him dashing to our rescue. Whilst waiting for his arrival I managed to find one of the wheels but the 10 wheel bolts were nowhere to be found. Ben managed to find in his workshop 10 suitable wheel bolts and after an hour or two we were able to resume our journey to Portsmouth for our ferry crossing to Spain, luckily it's departure time wasn't until 17.15 so we made it in plenty of time, however I must admit that throughout most of our journey both to the port and in Spain I watched the trailer via the rear view camera like a hawk.
The crossing was perfect as the sea was like a mill pond and both the ship the Pont-Aven and our cabin were great. We arrived at Santander at 16.15 ( 17.15 Spanish time) so only had a few hours of day light to drive to a stopover point.
We diecided to do it in two stages the first being about 120 miles to Burgos where we stopped for the night.
Our 523mile journey at 50mph from Santander to our site was all dual carriageway and without problems, hell I think I'd had my share of problems when we first started out.
On arriving at our site Marjal Costa Blanca we were greeted by Mike who I'd never met until then and had only communicated via our RV owners club forum.Ater checking in at reception he showed us to our double pitch where thanks to his help it had been covered with a green plastic woven material.
Well after our 10 hour drive it was just a matter of lowering the RV's jacks opening the slide-outs then off to the restaurant for a later tea then back and crash out until the morning when we can start unpacking the tables and chairs to name but a few little tasks.
Diary Photos
18th Sep 2014 Our RV Marjal 2014
BIG pitch our car transporter trailer is parked behind our RV across the pitch to allow us to park the car where you can see it positioned.
---
18th Sep 2014 German Outfit
This German 5th Wheel out fit arrived yesterday, apparently they have stayed on here before.
---