Thiswilldous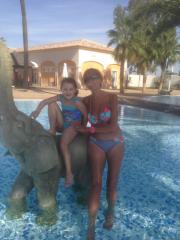 10th Nov 2014
Doing Great
Well it's been a few weeks since our arrival and quite a few things have happened, the most important is that Pat is continuing to gain weight , now just over 9st but still quite wobberly and easily tired. The other week grand daughter Izzie her mum Bev and her partner Adam visited for a week and we had a great time.
I'm still maintaining my 8½ st weight loss and regulary ride 34 miles to Guardamar for a coffee, black of course and tapas (Calamari) this area is ideal for cycling being flat and the majority of roads have cycle paths.
Weather as now changed slightly even as I write this at 09.23 the sky is clear blue, sun shining but its 57f cool.
Okay shall close this entry in order for me to add a few pictures, shall add more entries soon.
Diary Photos
10th Nov 2014 001
Pat & Izzie posing on baby Dumbo in the sites outdoor pool.
---
10th Nov 2014 Cool Dude
Think this was taken just after our arrival at the sites outdoor bar plaza, think Pat was over at the spa having a nail manicure.
---
10th Nov 2014 Bling
Taken the other day at our 'local' bar called The Village Inn in Catral, on this occasion we were treated to a performance by Woody but even without his Peckers it was great.
---